Just this week I was going through training about some of the drawbacks when it comes to online business. This training by Kyle who is one of the owners of wealthy affiliate This training covers some of the best online business tips.  The training had 7 tips which we will discuss here
Reviews from this training
Before I jump into some of the tips that were shared. below are some of the people that went through the same training I will discuss here.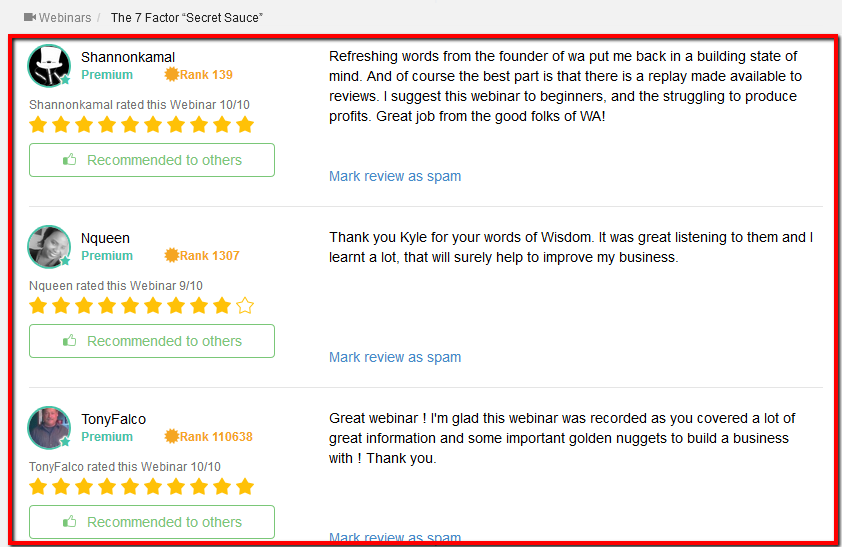 Tip Number 1 about Online Business Entrepreneurship
Patiance. The work you do today you will get the results years later or months later from now. Kyle spoke about the idea of having patience when you are stating an online business at home or anything inbetween.
2. Helping people in a positive way in business
There are a lot of online business classes out there. Many have met people that have helped them along the way. If you own a website, facebook page, youtube channel be positive about what you write or publish As this goes a long way with the people that you are helping. Just like the other review, I did this other day about SEO traffic you can read about that here.  
3. Time management in business
On time management covered about how we spend our time between emails chats and so on. Yes On this one I have learned a lot because I have always found my self trying to answer a number of question over email and social networks. As an online entrepreneur, it's best to spend time to your online business grow. He also covered about automation, this is where by automating some of your online business tasks. Though there are recommended automation and so on.
4. Here it for your self about 7 secret sauce from Kyle himself
This training is an hour and a half long. I really enjoyed going through it. Well, am sure there are different ways to interpreting words its best you go through the training you should be able to learn a number of things to win in your online business. click the image below to watch the video training.
Conclusion
There are a number of advantages of online business. I could not complete all the 7 tips. I left the others so that you can listen to the training about the tips. The tips have been of great help to my online businesses.
I would like to hear from you about your opinion if you have any question please leave a comment befow