If you have been using deriv as your broker. You may want to have a look at the new deriv Dp2p which allows trades to sell their balances to each other. Though in this article I am going to explain the process of selling your balance in your deriv account. If you missed the video that explains what deriv dp2p is and how it works see it here https://youtu.be/NapSJlkVKgc
Let's look at the steps.
If you prefer watching a video here is the guide
Getting your deriv account verified
In order to use this method, your deriv account must be verified. The verification process takes more than 2 days. This means uploading proof of residence and your id.
Step 1 log in to your deriv.com account 
log int your deriv account and locate the cashier option this will take you to the dp2p section
Step 2 -Do to deriv dp2p section
The Deriv dp2p section will give a number of options.
Buy and sell is where you find buyers and sellers
Orders: this is where you see your current
My ads: this is where you place an order if you are selling or buying.
My profile: this is where you set your username and other profile details.
Create a deriv.com account here
Tips to sell or buy faster if you click on the name of the buyer or seller you will be able to see the number of transactions they did. This is also known and the advertiser's page. try clicking any name you will get what I mean. My name always appears as KudaOnline I am sure I have much order than most people.
Step 3-Go to my ads and create an ad
Creating a sell ad means you are placing an order to tell other deriv traders that you have a balance that you are selling.
My ads page on deriv dp2p
Type: select sell
Total amount: This is the amount you wish to sell. It does not have to be the whole amount in your account you can sell a portion of it
Fixed rate: This is the rate per dollar. You will be receiving your money via ecocash or Zipit. I m sure if you live in Zimbabwe you know how rates work.
Min. Order: This is the least amount someone can buy from you
Max order: This is the maximum amount of money someone can buy from you.
Your payment detail: Enter your ecocash or ziipit details
Contact details: Enter your phone number for calls and whatsapp
Instructions I normally say call me if I am not available
Lastly hit post ad
Earn money from deriv affiliate program
Step 4- Be listed on the seller's page
Once you place an ad your name will appear on the selling page on deriv. Other traders will be able to see your order and they can pick an order. You chat with them if need be. They send you the money and you release the balance to their account.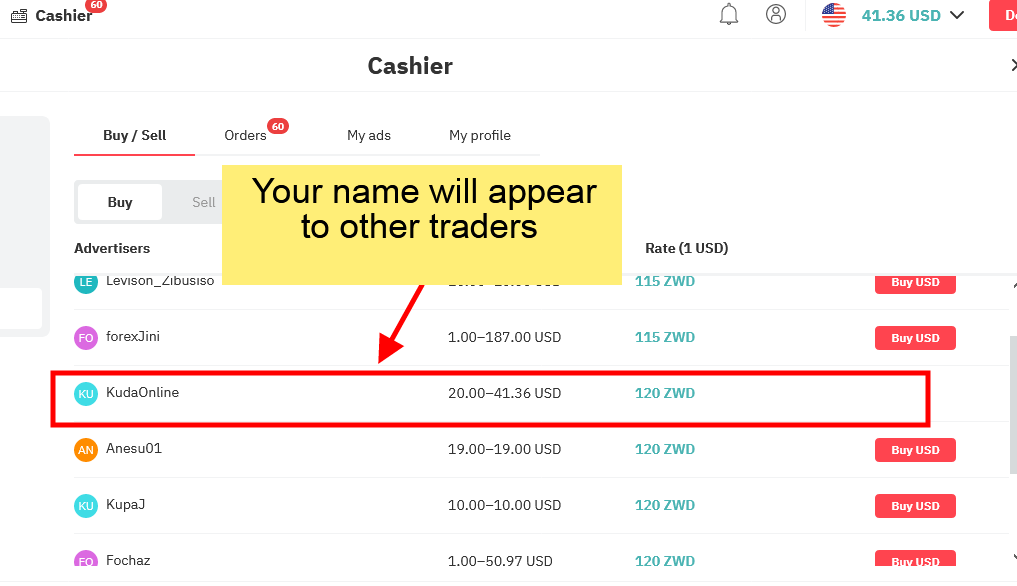 Create a deriv.com account here
Conclusion
I will continue with other guides if I missed anything please leave a comment below. this method of using deriv dp2p is much better than using skrill or bitcoin to deposit or withdraw your funds from deriv.  This also reduces the number of scammers. if you also want to capitalize on deriv read my order article make money from deriv as an affiliate here