Is it really possible to make money online? In this article, I will share how I and others have been earning money online on the Deriv website. Please note this article shares my real results. Your results may vary from mine depending on your strategies, commitment, and level of skill. With that out of the way, let's go

I have been in the affiliate marketing industry for a couple of years now. Giving credit to my online mentors that I met through wealthy affiliate platforms that teach a lot about affiliate business models. It is there where I have learned a number of strategies.
If you have gone through one of my free courses on how to start an online business, you will understand what is explained in this article. Let us have a look at how deriv works. Then we talk about money.
What is deriv & how does it work?
Deriv is an online forex trading broker that is used to trade forex, commodities, synthetic indices, stocks, and stock indices. The platform is used by online forex traders. Since this article is mainly focused on earning commissions, I will not dive deep into how deriv works. But I have made a video that explains it all you can watch the video below.
How does the referral program work?
You recommend deriv to online forex traders to use it as their broker. When they sign up using your link and start trading on the platform, you are paid some commissions. The Commissions vary on the amounts they deposit and so on. More details are covered on the deriv website on their requirement page.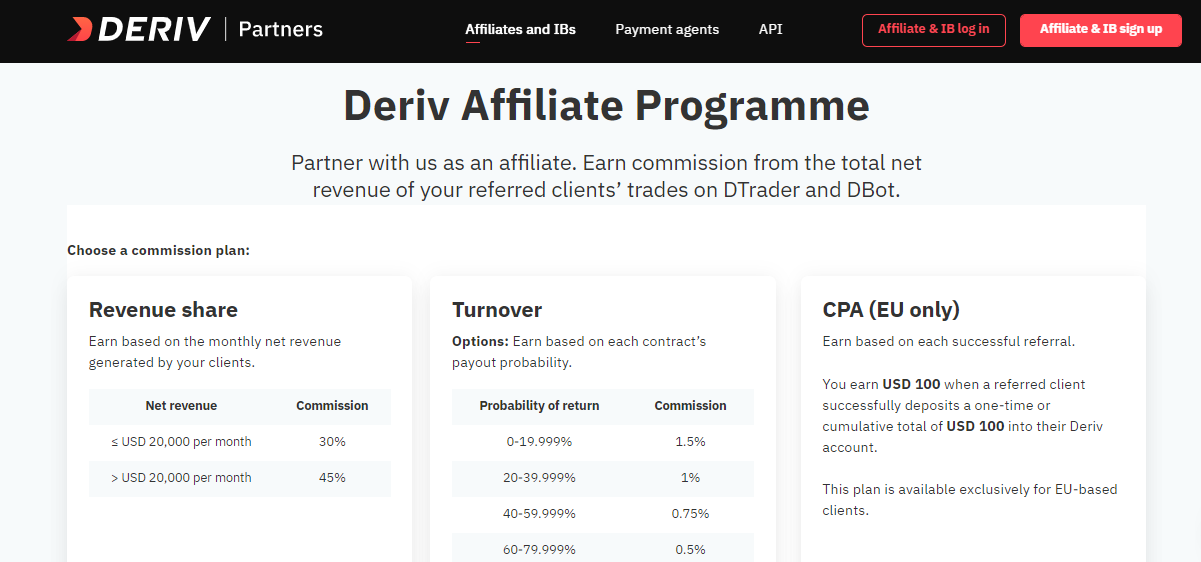 How does someone get started with promoting deriv 
Step 1. Create an account Deriv : This is a trading account which you can also use to withdraw your affiliate commission.
Step 2. Do all the verification process that is uploading your documents (ID , Proof of residence and other needed materials)
Step 3. Apply to promote deriv here . I have done a video that explains how you go about the process. You will also need to read through the agreement pages.
Step 4. Start working on increasing traffic to your affiliate link. The more traffic you have, the higher the rate of getting sign-ups.
How much can you earn per month?
How much you can make depends on so many reasons. Lately, my affiliate commissions from deriv have been ranging from $400.00 to $1000.00 per month. Below is a screenshot of $939.22 my August 2021 commission. People in my network who are also part of the promotions make even more money (Passive income online).

Best way to market  deriv
There are a number of ways to market deriv. if you are not getting the results that you need, then you need to work on your target audience, learn and deploy online marketing strategies that will bring the results. For me, I was fortunate enough to be trained by one of the leading affiliate marketing online universities called Wealthy Affiliate ( for a fee of course). Below are some methods that have increased my clickthrough rate and with this, I was able to get large amounts of traffic.
Writing articles
YouTube videos, visit my channel here and don't forget to subscribe
Social media ( facebook group) I do run a facebook group that i am an admin and I share my articles and my content with like-minded forex traders.
Make sure you add your affiliate link to the content that you create.
If you need to learn what goes through my mind, go through my training course on how to start an online business here 
Deriv affiliates Zimbabwe whatsapp group 
We do have a WhatsApp group with people that are promoting. In this group, there are great discussions, tools and strategies shared.
Is the Deriv.com Affiliate program able to provide support?
Yes! They have a support portal where you can ask all your questions. There you also get tools like training videos, PDFs that you can find in your account dashboard.
Other ways to make money on the deriv platform
I started off being a deriv.com client and upon realizing the gap in the market I didn't want to leave money on the table. In the video below, I discussed 4 ways one can leverage on and profit from
Conclusion
With this method, you can also get extra cash if you trade forex on deriv. I am sure you have 1 or 2 people that want to trade. Why not share your link with them. You may also like the other article I shared about the affiliate models that you can use in Zimbabwe to earn passive income. read it here.
Did I miss anything in this article? I would like to hear from you. Please leave a comment below