Imagine you can create studio-level designs in just a few minutes!
Let me explain…
What is Crello used for?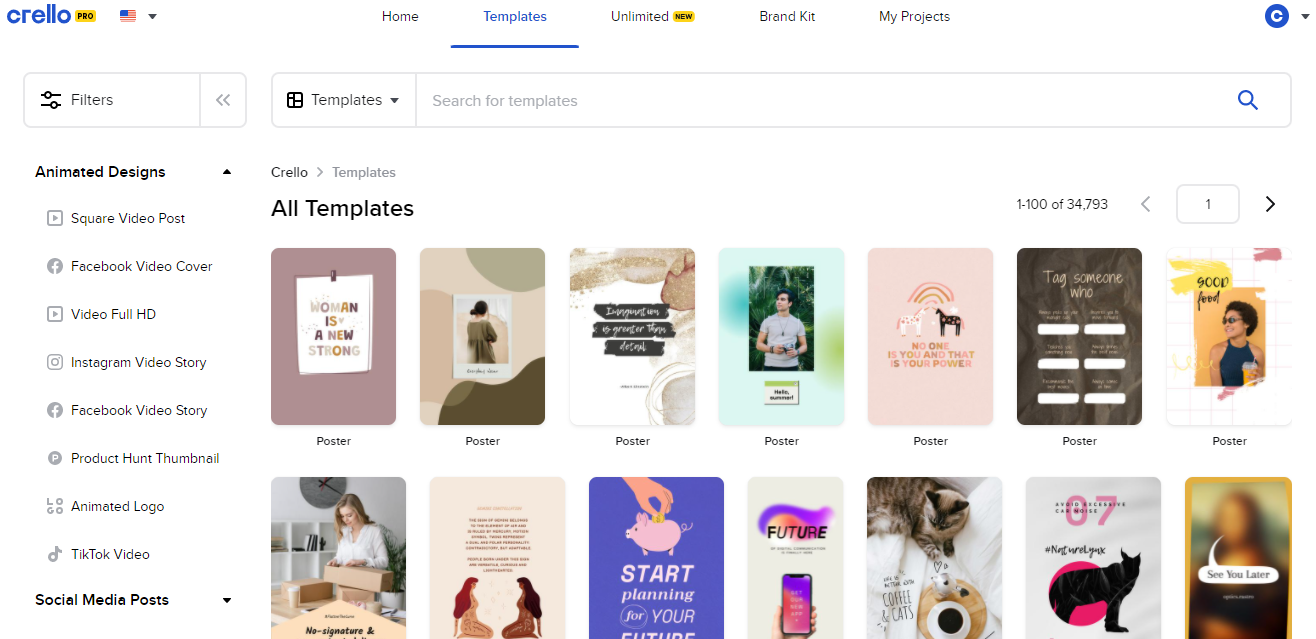 Crello is a video and graphic design tool that helps everyone to create professional designs with ready-made templates in a few clicks or create designs with many design tools and features.
It helps you create social media visuals in just a couple of minutes
(whether it's a post, a video story or a pub), design your business-card or flyer, build a print, social and blog marketing collateral, and create long-form content like presentations and eBooks. It is an easy-to-use tool for all.
You may also be interested in OneStream and other cool content on online marketing.
The biggest challenge is the high budget, in which a campaign includes visual effect. Crello is a popular graphic design tool online. We cannot deny the greater impact of visual information to attract the attention of a customer.
How can I use Crello?
Crello's editor is designed for anyone in need of work or hobbies – marketers, managers of social media, small companies, students and teachers, organizations, and clubs.
The intuitive interface of Crello requires no design, software or knowledge, and everyone can use the instrument to be their own designer. You don't even have to create visual content in photos or videos as Crello has a built-in library, but later on.
Can I use Crello for free? I'm glad you asked. Crello has a free and premium plan for social media, printed and other web-based graphics that allow the creation of images.
It includes 30 formats and 10000 templates for graphics creation that are free and ready to use.
Pricing at Crello begins at $7.99 per feature, per month. A free version is available. Crello offers no free trial.
What do I need to start working with Crello?
Select the size of your format and go to the editing interface. You can create a photo-and video-library design with the help of fonts, lines, shapes, stickers, or you can also customize a ready-to-use template for each size.
You will need to set up a free account or login via Facebook or Google accounts in order to save any designs created by the editor.
When you just don't know where to begin, Crello has an Inspiration page with sample designs for future events, holidays or seasonal collections.
Category browsing templates can also be useful to find designs that are appropriate for your industry or theme. The templates of Crello in 22 categories are categorized in each format:
Beauty, Fashion & Style, Healthcare & Medical, Food & Drinks, Education & Science, Technology, Industry, Home Stuff, Real Estate & Building, Business & Finance, Transportation, Cities & Places, Travels & Vacations, Leisure & Entertainment, Holidays & Celebration, Sport & Extreme, Arts & Handcraft, Nature & Wildlife, Pets, Religions, Social Activity & Charity, Kids & Parents
Find out what great things you can do with every feature of Crello
Use the background eraser to make or transparently make the background of any picture within a couple of seconds. Turn your thoughts into excellent visuals with these easy-to-use background erasers that are easy to use and fast to set up.
Add your fonts and color palettes to the brand kit and access them easily when your content needs to be branded. Make Crello to create unique brand designs.
You can make a post, Insta story, ad or printable postcard that looks great and clean with a variety of frames in the Crello library.
No matter what you have to say, give your message an impact. Crello makes it easy and fast to add text to your photos.
Put your photos in a snap with lovely filters. Crello has a set of important photo filters, either an elegant B&W or a lively festive effect.
For more detailed information on Crello features, kindly check the website.
What Makes Crello Different?
Hundreds of video and animated templates for social posts and ads
13,000 free templates
New templates are added to the database every week
Collection of designer animated templates and objects
Animation and video can be added to your static content
1,200 videos to use in designs on any topic
Free instant resize of any template you choose to any desired format
3,000 free photos
4,000 free icons and illustrations
Free unlimited storage for created designs, uploaded images and fonts
Unlimited folders for uploaded files and created designs
Multi Page designs – eBook, Presentation, Business Card, Flyer, Postcard
Free option to add unlimited pages to all static designs (to test competing ideas, translate content in other languages, etc.)
Constant upgrades: new formats, features, design options
Source: Crello
Conclusion
You can use the designs you created in Crello to create commissioned projects for your clients as well as for your company's business needs (websites, social media posts, printed materials, and so on).
I hope you enjoyed this article, and please let me know when you began creating your visual designs.