Are there sources of network marketing leads? If you are in mlm or network marketing you would understand that connect with new people is the key to network marketing success. In this article, I am going to break down some steps you can follow in order to find leads for network marketing. Let's jump right into it
Getting network marketing leads for free on a network marketing  social platform
A while ago a friend of mine shared a link in our WhatsApp group for people to see if this website was for real. I went to check the website. One of the thing that really got to me was the way the landing page was set up. You can see in the image below that the website is free to create an account. which to me is a great way to collect leads.
Account verification
In order to use MLM gateway, one needs to confirm their account by clicking the activation link that is sent to their email. This is a way to make sure that everyone who has access to the website is a verified member. Let me go into some of the website features.
Members list to network marketing leads on ML Mgateway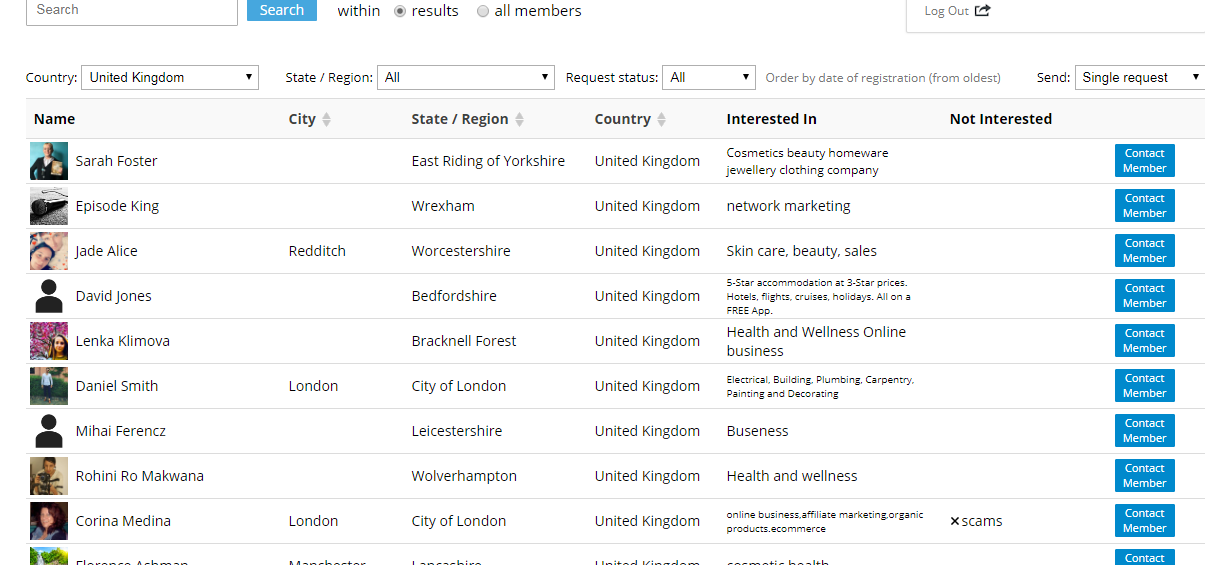 This the first area that most people use. There you will be able to check and filter people based on their interest and country. Like finding a person in any country who are doing or interested in network marketing. THough most people who are on the platform are looking to connect with others as well this means you have to be wise in your approach I will touch on that later on. I will share the best practices on how to use the platform.
Network marketing business announcements to find leads for network marketing.
MLM gateway offers a blogging platform where you can post a blog post announcing the business you are doing or anything you would like to share with the audience. Should you want to learn about blogging and how to properly do it check out this platform . I have used this announcement section on MLM gateway and have gotten a lot of feedback.
Is it free to get MLM leads on MLM gateway?
Within the platform, there is what they call credits. The credits can either be bought or you can earn them by referring other members to participate on the platform. This is just like inviting someone to take part on Facebook and whenever they do any by anything from facebook you get a cut. The membership plans are $24.95 which is a monthly fee. This unlocks a number of features within the platform. Personally, I have been using the free plan, I have referred a number of people to the platform hence I get some credits. SO it's your choice as to do you want to refer people or you want to pay for membership. There are also other credits plans which I will not mention here.
MLM gateway commissions for getting free network marketing leads
Earlier on I spoke about how I knew about this website a friend wanted us to check if it is real. I have referred a number of people to the platform who ended upgrading and in return, I got some commissions. I managed to withdraw some commissions to my bank account though I wanted to use bitcoin,
TO earn from the referral program you don't have to be a paid member.
MLM Gateway video review
I may not be able to cover all the features that this website offers. The video below covers most of the website features.
To win in finding leads for network marketing
Though MLM gateway can be a free and great platform to find leads and prospects for network marketing. It is great to create a foundation and build upon it. Most network marketers I have come across have a tendance of wanting to sell to everyone they meet. Its all about finding the people that are interested in your offer which is why I highly recommend going through mentorship. You can get world class mentorship and training here 
Conclusion
Did I miss anything? do you have anything to share or to ask? Please leave a comment below I would love to hear your feedback and contribution