What is OneStream Live?
OneStream Live is an online service that allows users to go live across multiple social networks simultaneously. 
Let me explain…
Case in point: According to Hootsuite, live videos earn 3x more watch time on Facebook than regular videos. 
OneStream Live is a tool that allows you to simultaneously stream videos pre-recorded on 40+ social media networking platforms.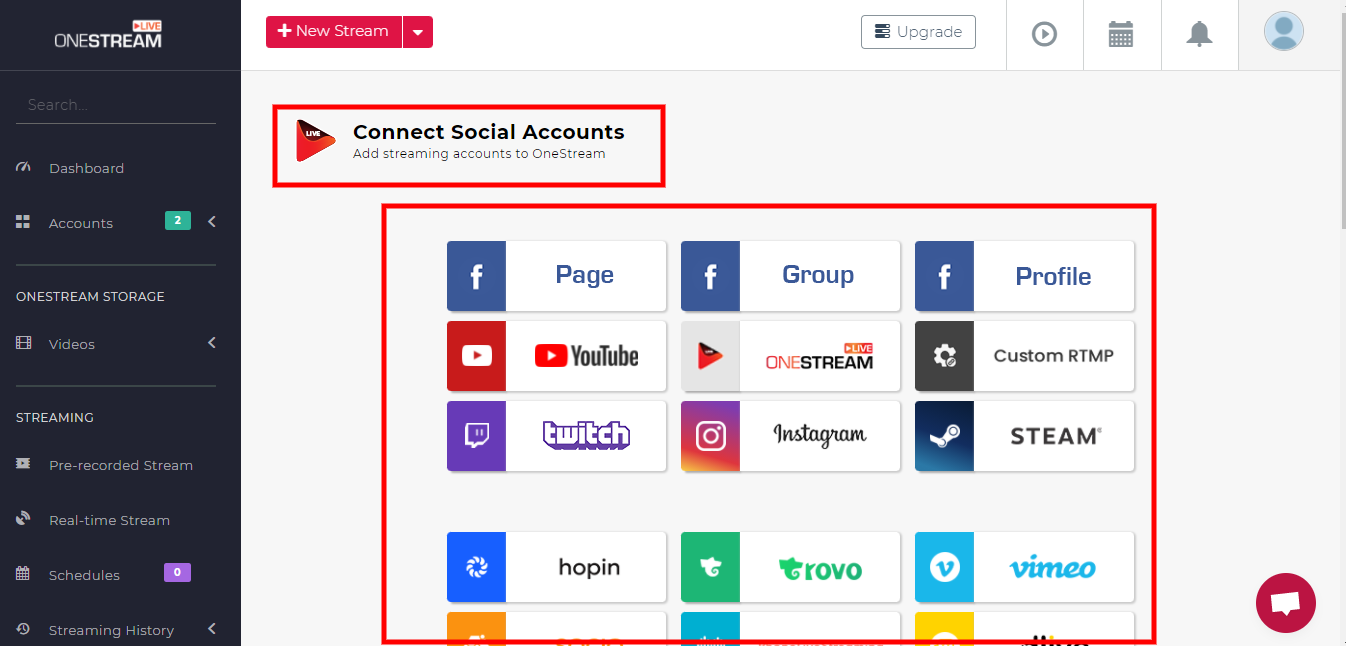 Remember, live videos can help you with engagement with your audience and gain more followers. We had exactly what we needed to upload & pre-program streams for a variety of platforms at certain times, and OneStream does more than that. 
 "Five stars easily. "
How does OneStream live work?
It works by recording pre-existing videos onto your computer then upload them directly to various social media accounts. Once uploaded, they appear as if you were actually broadcasting live from somewhere else in the world right now. You can even personalize your live streams by adding watermarks, logos, and custom thumbnails.
70% of consumers who live stream do so at least once per day and 88% of video marketers report that video gives them a positive ROI, according to HubSpot.
How do I stream on OneStream?
Select the video file stored on your computer or cloud storage. (Dropbox, Google Drive, OneDrive, Box, Frame.io) that you wish to stream live. 
Also, remember to schedule your live stream and choose a preferred social media networking platform. Select a pre-recorded video.
How to Live Stream pre-recorded video with OneStream
Log in to your account (or sign up for a new account) Sign In via your Facebook account or using your email.

Add your Social Account. 

Upload Video. 

Edit Stream Details (optional). 

Create Steam. 

View Ongoing Live Streams.
How do I use OneStream?
OneStream Live can let you plan your pre-recorded videos up to 60 days in advance for live streaming. Select date and time when adding stream details, select your time zone, select social accounts and copy the "Shift" button to program your live stream on multiple channels.
Did you know that when you do pre-recorded streaming, you just upload and set streaming schedules on OneStream? Once and when your videos are set, they are automatically streamed live to the selected social media platforms.
Also, when you go about real-time streaming, you just go about setting up third-party software streaming, such as OBS, Zoom, XSplit, Wirecast, and many more, simultaneously with OneStream and live streaming to several social media platforms.
9 Awesome Features and more from OneStream?
No software installations

or configurations required

No prior live streaming technical knowledge required

Stream recorded videos (You can even schedule to go live at a later time)

Streams can be

scheduled up to 60 days

in advance

Real time

live re-streaming

Stream to

multiple social media platforms

Facebook Live

Crossposting

Upload videos

directly from cloud storage

(Google Drive, Dropbox, OneDrive, pCloud, Zoom Cloud Recordings, Frame.io Storage and Box Storage)

Playlist

streaming
Hey, for more detailed features, kindly check the website.
What is the best quality for live streaming?
Many people have a resolution of 1080p, at 30 fps, that gives you a good stream and the video bitrate can vary between 3,000 to 6,000 kbps. Run a speed test and also perform a live streaming test to check your upload rate.
Does OneStream have an app?
Yes, OneStream's Web Dashboard is responsive and easily adapts to your mobile/tablet screen, which gives you the same experience as on the ordinary desktop.
OneStream Live's Pricing Plan

Is OneStream live free? OneStream Live's free plan allows you to connect one social account and live stream up to 5 minutes of pre-recorded content on your preferred social channel. With the basic plan ($10/mo), you can have 3 queued streams at a time, while the standard plan ($45/mo) lets you have 15 streaming at once. Each pricing plan has a limit on the number of scheduled streams in the queue at a given time.
Bonus Tip of Using OneStream Live
The setup of social media video streaming is very time-consuming and cumbersome, especially for a professional. OneStream streams live for you!
Benefits of Using OneStream Live
Flexible broadcast options, tools for upload and import, and team and viewer management are the main advantages of OneStream Live. For live streams, this platform allows you to simultaneously mount your streams on multiple platforms and to better target your own website. It also generates feasible analytics to help you better engage and target your streams. 
Conclusion
I just wanted to tell you some tips for the options that you have and a few easy ways to influence your streaming game and you'll be in control. Did you find the strategies listed in this article helpful?