Invideo Review 2020
There are tonnes of video and image editing software products out there and many have come and gone over the years. A few have remained though and a major factor that is common among the ones that have endured are great features and awesome support.
Invideo video editing software satisfies both these criteria. This is not a fan boy article where I talk about the amazing features of this software (It has many), but I want to give an honest review to help you make the best decision if you are trying to establish whether or not this software is for you.
Invideo Platform
Invideo is an online video creation platform that allows you to make professional videos within minutes. We live in a society which is dominated by video content and for good reason. It is more engaging and easier to consume than standard text content hence the popularity it has now.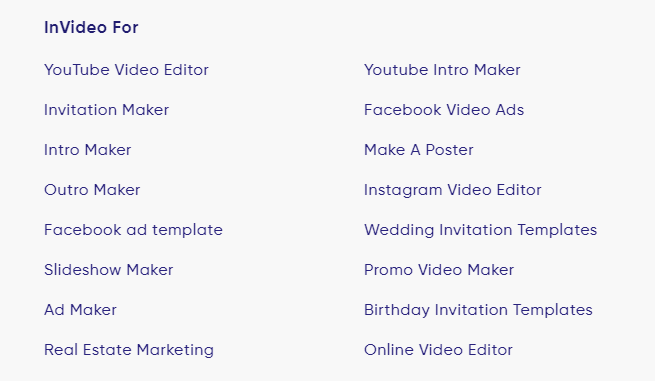 Social media has played a big part in all this with most of this video content being consumed there. Unfortunately, if you are a video content creator and you want to post to multiple platforms, not all videos do well on all platforms.
Instagram, Facebook, Pinterest, YouTube and others, all require that you create videos with specific aspect ratios if you want them to come out the right way. Invideo takes care of this in a seamless way as you will see in the next paragraphs.
Invideo Pricing
Though they used to had more plans before, Invideo has now made their pricing as simple as possible. They offer 2 pricing plans of $20 and $60.
The first plan allows you to make up to 300 videos a month and this is more than enough for most people but if you create are an agency or create a lot of content per month then the second plan is a great option for you.
It allows you to make an unlimited number of videos offering you a great set of features. You can sign up for a free trial first to test it out then decide whether or not this is for you. Chances are you will join the 90% of people who sign up for the paid plans after testing it out.
Invideo Features
Now let's talk about the features that Invideo offers. I think the one that sticks out over the others is the ready-made template library with pre-sets for different social media platforms. As I've already mentioned before, different Social Media platforms require different aspect ratios.
Pre-set Video Templates
This is a heaven-sent because you don't need to figure it all out, the templates are already there and all you do is feed in the content. If you have been doing video editing for any amount of time you will realize that this is a great feature.
Custom Colours
If you are doing videos for brands and want to keep a certain colour theme throughout the videos, Invideo allows you to enter in the hex codes for the colours you want and it will automatically input these into your video as you create it. This saves you a tonne of time.
Script Scanning Which Matches to Stock Images
For those of us who are shy and don't want to get on camera, there is an amazing feature that allows you to import text from a script or blog post then it automatically pulls matching stock images then creates slides.
This is a great way of creating video content without necessarily having to shoot film or record yourself. If the stock image used does not match what you want, you can simply change it and choose something that does.
This script feature is great in that it breaks your text up into small chunks for each slide. If you import a long blog post into it, it will group the text into easily digestible chunks that are easy to keep up with.
Vast Stock Video Library
Over and above the stock image library there is also a vast stock video library that you can use to create great video content on the go. You really don't need to get in front of the camera ever.
It goes without saying but you also have the ability to upload your own video and audio content to Invideo.
Automated Voice Over
Invideo also has an automated voice-over feature that you can use if you don't want to record your own voice over. It works by reading out the script that you would have uploaded. This works well if you are not confident in your own narration skills.
Audio Library
Invideo comes with a lot of audio tracks that you can add to your video without the fear of any copyright infringement. There is a vast array of options that you can use to match just about any style out there.
Great Video and Audio Effects
You also get great visual and audio effects that will give your video that great professional end result.
Video demo
Cons
Now, as I said before, this is an honest review and not a fan boy post where I fawn over just how amazing Invideo is. It does have a few kinks that I am going to talk about here.
The script function doesn't always pull the best stock images and is sometimes really a hit or miss. On some occasions, you will get really good results while at other times the end result will leave a lot to be desired.
This can be easily remedied though but it just simply means a lot more work for you.
Another con is that the automated voice over feature can sound very robotic. I guess this technology is a long way off from being perfected but we will get there eventually.
I recommend that you do this yourself or alternatively, send your script to a professional voice over recorder who can do it for you on Fiverr.
Apart from these, there really aren't any other cons that I can think of. Use the link below to sign up for a free trial of Invideo so you can test it before getting onboard. You will get a 50% discount if you use the link below.