In this article, I will be doing a Promo Republic review which is one of the social media management tools that is currently making waves on the internet right now.
If you are a brand that wants to make an impact in the world, there are fewer platforms than social media to get yourself known in the marketplace. You only need to look at the recent success of the youngest billionaire ever, Kylie Jenner, to recognize the importance of social media in building a business brand.
You may argue that she was already riding on the back of the fame that their reality show, keeping up with the Kardashians, has garnered for her. I will argue that she has other siblings as well who have not made as big an impact despite the fame.
We could go on and on about this but if you really sit down and think about it, there are many numerous brands that have risen from literal obscurity to stardom social media. Look at the many Instagram models who have risen to celebrity status all because of social media.
There are a host of other influencers who has managed to rise from rags to riches all based on social media. This is something that was virtually unheard of if you go back 15 to 20 years. Within 2 decades, the influencer space has opened up so much that people are now able to literally reach millions of people for little to no money and become millionaires in the process.
You don't need budgets in the tens or hundreds of thousands of dollars or millions anymore. You simply need to be where the masses are and that's social media.
Even though it is a powerful tool to have in your arsenal, social media can be a drag when it comes to managing it especially if you are on multiple platforms. This is where social media management tools come into play.
Social media managers allow you to manage all your social media platforms from one central location. You don't have to keep logging into and out of your different accounts but can do it all centrally.
There are many tools that are available out there but in this particular review, we are going to look at Promo Republic.
What is Promo Republic?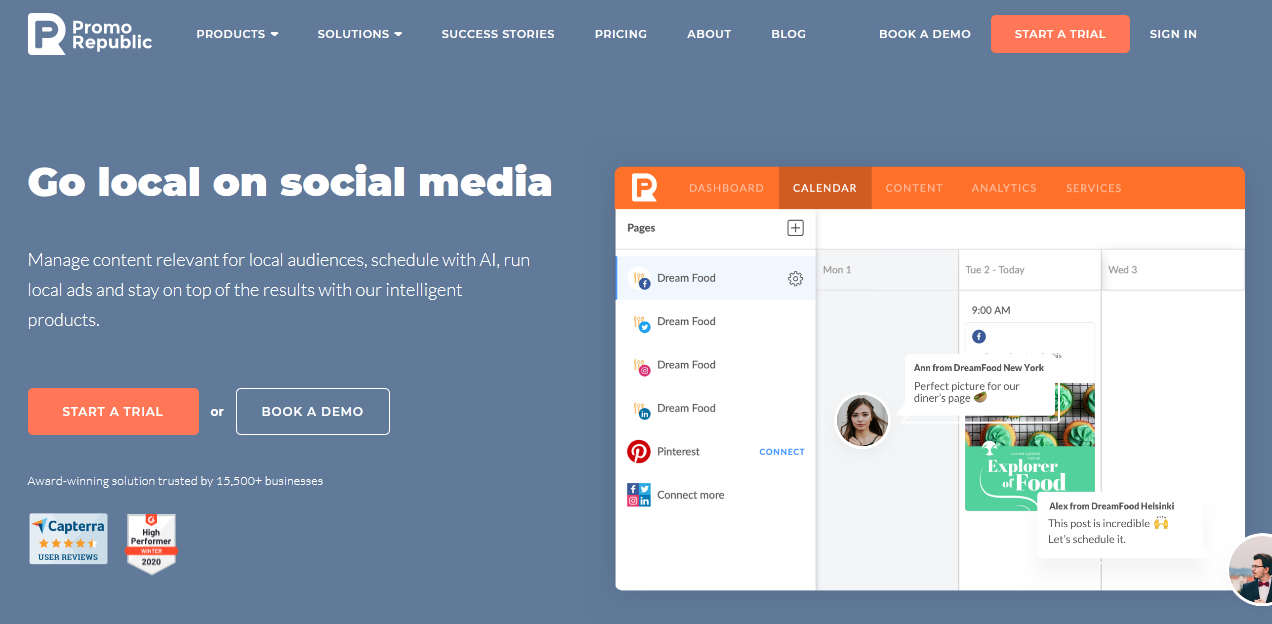 Promo Republic is a social media management tool that was designed specifically with the small business in mind. This is because most small businesses don't have the budget to hire a full-time social media manager.
It is also great for multi-location businesses, franchises, marketing agencies, and similar businesses. Among its features are collaboration tools for agencies and freelancers. The list of features include:
Social media monitoring tools
Automated scheduling to most social media platforms
Team collaboration
Content library offering 100,000 content ideas in case you are stuck on ideas
Social media ads.
What sets Promo Republic apart from the rest of all the tools out there has to be the ability to create graphics from scratch all within the tool. Having done a lot of social media marketing over the years, I recognize the power that this feature holds in saving so much time.
Promo republic video review
As already mentioned, you are able to create paid ads all from within the application which is a pretty sweet feature.
You are able to manage multiple accounts if you are an agency and have many client accounts that you are monitoring. You are also able to monitor any mentions of your brand on Google, Yelp, Facebook, Twitter, and Instagram.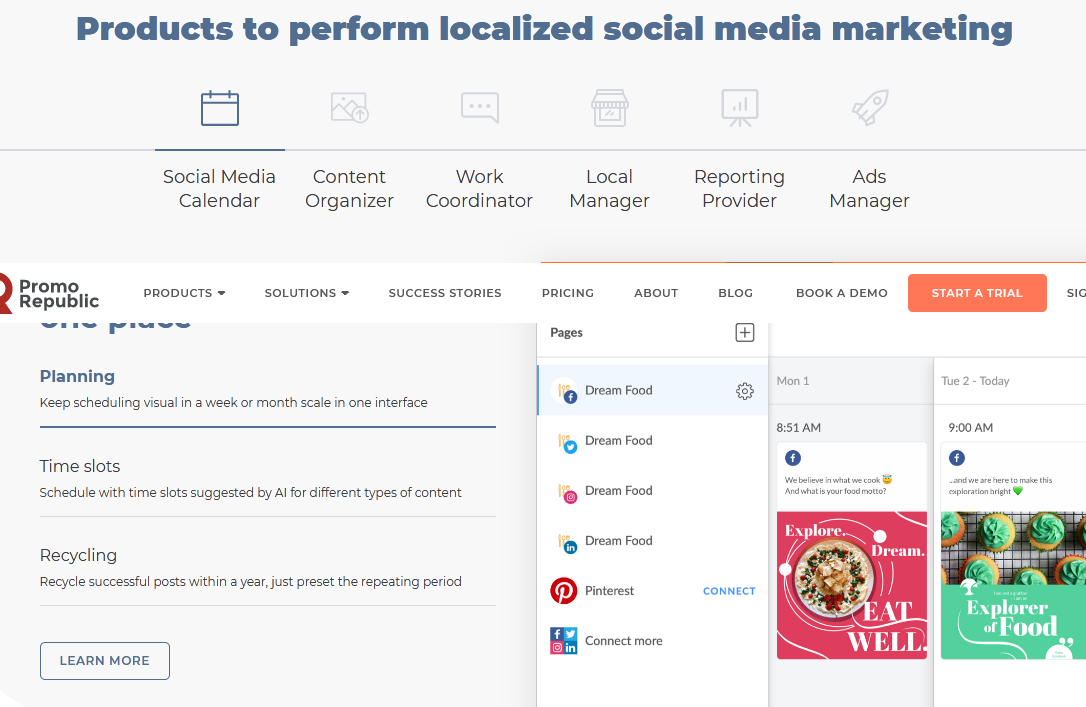 Promo Republic API
Promo republic is also able to integrate with other applications such as Hootsuite, Buffer, and Hubspot. This makes it a tool that is super convenient especially if you are a content creator.
Promo Republic Costs
Promo republic has many different price points all depending on the level of functionality that you are looking for.
Packages
| | | |
| --- | --- | --- |
| Package | Features | Cost |
| Free Trial | You can get a free trial on both the Standard and Professional packages on a trial basis then get billed should you choose to continue. | $0 |
| Standard | The standard package allows up to 10 social profiles and 2 different user accounts.  You get the advanced social media calendar as well as a content suggestion library. | $49 |
| Professional | The professional package allows for 30 social media profiles as well as 15 team members. This package provides reporting services and a client-Agency work coordinator. | $99 |
| Business | The business account gives you 150 social profiles as well as 75 team members. It gives branded content storage as well as a local manager. | $499 |
| Custom | This works best for multi-location enterprises, Multi-Level Marketing Companies as well as franchises. | – |
Let's look at the pros and cons of the pros and cons that the Promo Republic comes with since this is, after all, a review article.
Pros
Content Library with 100,000 post ideas
Image editor
Multi-user collaboration
Multi-location collaboration
Agency features
Automated Posting
Post Rescheduling
Cons
The reporting feature is not very comprehensive
Posts to Instagram need to be validated through the mobile app
Conclusion
I personally use this tool on all my social networks including my facebook page kudaonline If you are looking for a great SMM tool that significantly simplifies your life then the Promo Republic is definitely worth looking into. The set of features has brings great convenience to any brand seeking to have a significant presence on Social Media.
To Sign up For Promo Republic, go to >>> www.promorepublic.com