My honest opinion about Tradera the company that offers forex trading education and other services. I have been approached by a number of friends who wanted me to take part in it. In this Tradera review, I will share my thoughts and you will see if Tradera is for you or not. Before we jump into what I think let's look at what is tradera and how does it work.
What is Tradera & how does it work?
Tradera.org offers Forex trading services that are forex trading strategies, forex trades alerts, Forex trading education, and Forex trading sessions. However, there is a membership attached to it. If you need to enjoy the benefits one has to pay a recurring fee. In order to get free membership, you have to take advantage of Tradera referral compensation. If you participate in the referral compensation program you don't only get free membership but you also earn a good residual income when your team grows.
I had a constructive discussion with a friend about Tradera. The referral compensation program has a network marketing structure. Which means one can make money from just referring members without trading. Not so many people are very good at recruiting in network marketing. It takes a great skill to build a team Well if you don't like to recruit then it means you have to commit to $99.00 every 28days to learn forex trading. To be honest with you $99.00/28days is not easy to maintain especially if you are just a newbie to forex trading and if youdont recruit. I don't think any of my forex trading friends would give a green light to this. There are many resources one can learn forex trading for free.  Let's look at some websites where you can learn forex trading without paying a dime.
Websites to online forex trading education?
1. Babypips.com
This website www.babypips.com is like the forex trading bible it offers everything you need to know about forex trading.  They have an education, forum where you can ask questions, Updates and so much more.
2. Hotforex.com
Hotforex is an online forex trading broker, they have free forex education on their website and their youtube has a lot of ongoing webinars as well.
3. Etoro.com
Think of etoro as the Facebook of forex trading. It has a great community that you can use to learn from.
Is Tradera good to join or not?
You should have a goal in mind when joining Tradera. If your goal/passion is to purely learn forex trading. I think Tradera is NOT the best place to learn forex trading. If your goal is to make money from team-building then you can consider taking part in Tradera. The majority of Tradera members are not forex traders. They are Network marketers and internet Marketers. Otherwise use the online forex resources that are free.
Is tradera a scam or not?
In my opinion, Tradera is NOT a scam. It is a business that offers forex trading with MLM compensation plan. Forex trading is also not a scam as well. Forex trading is a profitable business that has a high risk of losing funds. Even tradera website has a black and white Risk enclosure on this.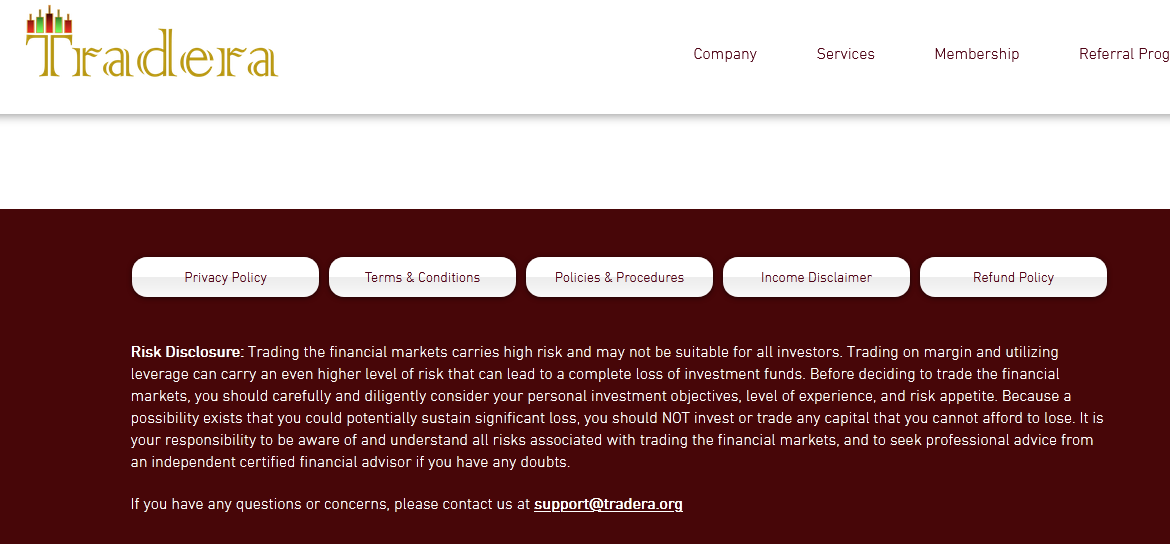 How to make the most out of Tradera?
It is clear that the majority of people who make money from Tradera are people that are good at team building compared to those that are focused on forex trading. Take a pen and paper start to do some calculations. Look at the compensation plan and see how much you can make when you build a large team. Compare that with what you have earned from placing trades.  You can even make more money if you are good at internet marketing. If you understand lead generation, funnels, blogging, and so on. Want to learn about internet marketing? Have a loot at wealthy affiliate.
Other companies that are almost similar to Tradera?
There are some companies that are almost similar to tradera that offers almost the same product. For research have a look at imarketslive and cashfx.
Conclusion
In the end, the decision is yours. Having been approached by a number of people who wanted my opinion. Forex trading needs time to learn and understand it. You can not have a situation whereby you pay $99.00 and push yourself to make profits in forex trading so that you can cover the monthly fees. This will not work. You may even not profit from trading. Forex trading needs a lot of time to learn and master it. With alternative resources, I have provided you If you put them to use you should be seeing some good results after a year or so.
Did I miss anything? Or do you have any questions? I would like to hear from you please leave a comment below.