T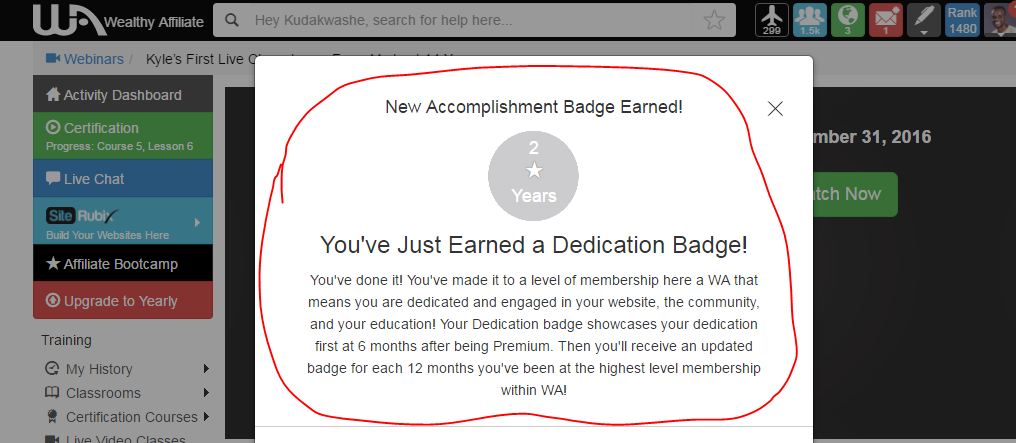 oday reminds me when i started the internet marketing journey. I remember learning to do a blog post for the first time, all I could do is copy and paste. The first post that made me money and that made sense to me was the post I copied from my mentor Kyle the co-founder f Wealthy affiliate University. I copy word for word hahahaha..Though this act is not allowed by google I pocketed some money and to this day i still do.
EARNED DEDICATION BADGE FROM WEALTH AFFILIATE
I stumbled upon wealthy affiliate when I was looking for a online university that trains internet marketing. Previous to this I had subscribed for My Lead System Pro which is a great system that taught me lead generation for the first time. Since then I couldn't afford MLSP monthly subscription. That when I got to Wealthy affiliate which was more affordable. Today I am celebrating 2 years of being an member of wealthy affiliate. I still don't know why I love to remain a member I have fallen in love with the community I guess.
NOW WHAT IS WEALTHY AFFILIATE
Wealthy Affiliate is an online community of entrepreneurs who aspire or who are making money online. It has operated for over ten year now. Think f wealthy affiliate as the facebook of internet marketers/ online business owners.Private chats, groups chats, question and answer, discussions and so much more.
WHAT TRAINING DOES WEALTHY AFFILIATE TRAINING OFFER
For the first time I got introduced to blogging by one of the training in Wealthy Affiliate. The training if for online aspiring individual to discover the endless ways of making money online. From mindset training to selecting a business idea that you want to build. I would say WA is the foundation that any one who need to make money online should build upon.MY ACHIEVEMENTS FROM BEING A MEMBER WA
I could spend the whole day explaining the benefits from being a member of WA. I was faithful to my self to complete the education offered by WA . From the training I have been able to Establish a number of online businesses and make a full time income working from home. Check out some of my websites including the one that you are on now
www.freelance.internetproclub.com
Just to mention a few
I have come to understand that there are thousands of people out there who are making money online I have chosen to be one of them.
FINAL THOUGHTS
Wealthy affiliate is for anyone who has a business or wants to start a business. If your looking to expand your business online and get new clients then it is for you. Its not for individuals who are lazy to learn as the backbone of WA is purely training. A number of individuals become members and don't complete the training.
You can create your account for free at Wealthy Affiliate University CLICK HERE
Did i miss anything in my post ?
Do you have any experience in WA ?
Please share your thoughts  below