In this article, I am going to review Brizy WP Page Builder. It is one of the latest entries into the WordPress Page Builder Frey and we want to look into just what it brings to the table. Is it really really any different from all the other page builders out there or is it worth a mention?
My Brief History With WordPress
I have been using WordPress to build blogs and websites for over 10 years now. When it first came onto the market, WordPress was simply a blogging platform and the way it was designed made it really search engine friendly.
Search engines really loved it and web marketers quickly took notice and started adding blogs to their websites. In the early days, this meant that you had to create a separate folder where you installed WordPress.
The main website would usually be an HTML or PHP website then a subdirectory would be created which had the blog. Just to use my example, the URL would look something like this www.kudaonline.com/blog.
It set separate from the main website and because search engines ranked blog content well, marketers started using blogs to drive search engine traffic to their main sites by linking from the blog posts to their money-making web properties.
It was an early manifestation of content marketing as we know it today. As time progressed, WordPress was eventually set up in such a manner that you could create a full website in it with a blog section if you so choose.
It was a lot easier to customize than before but still not as flexible as designing a website in Dreamweaver. Theme developers saw an opportunity and started building customizable themes. These made life a whole lot easier but most still lacked the simple drag and drop ease that other page builders offered.
Over time though, themes became easier and easier to use with Salient being one of the themes that I found highly customizable and could manipulate in just about any way that I pleased except change the appearance of the header.
I was really comfortable using Salient that when a friend told me about a new page builder called Elementor and just how amazing it was, I was a bit reluctant because, in my view, I was doing just fine.
Boy was I wrong, I later decided to try it out and will admit that I wasn't too thrilled at first most probably because I was still finding my way. When I did grab a grasp of it though, I never turned back. It now became my tool of choice.
I recently came across other page builders like Divi which were also great but decided to stick with Elementor which I am now really comfortable with.

Another Page builder which has been making noise lately is Brizy. I wasn't too excited about it to be honest until I heard about an amazing new innovation which, in my books, puts it heads and shoulders above other page builders but more on that later.
First of all, let's look at how Brizy WP ranks against other page builders.
What's So Great About Brizy?
If you've used Elementor and Divi before, what you will quickly discover with Brizy is that it is a hybrid of both. They have merged the best of both worlds. Brizy comes with inline editing giving you that true What you See is What You Get function of page builders of old.
Finally, WordPress page builders have caught up. If you don't know what I am talking about when you use Elementor, for example, you have to switch between design and preview modes in order to see exactly how your page will appear.
In Divi, you just work on the page in real-time. As you make changes, what you see is what you get. This is what Brizy has managed to do as well. It also offers a lot of customization options for different elements that you use in your design like buttons.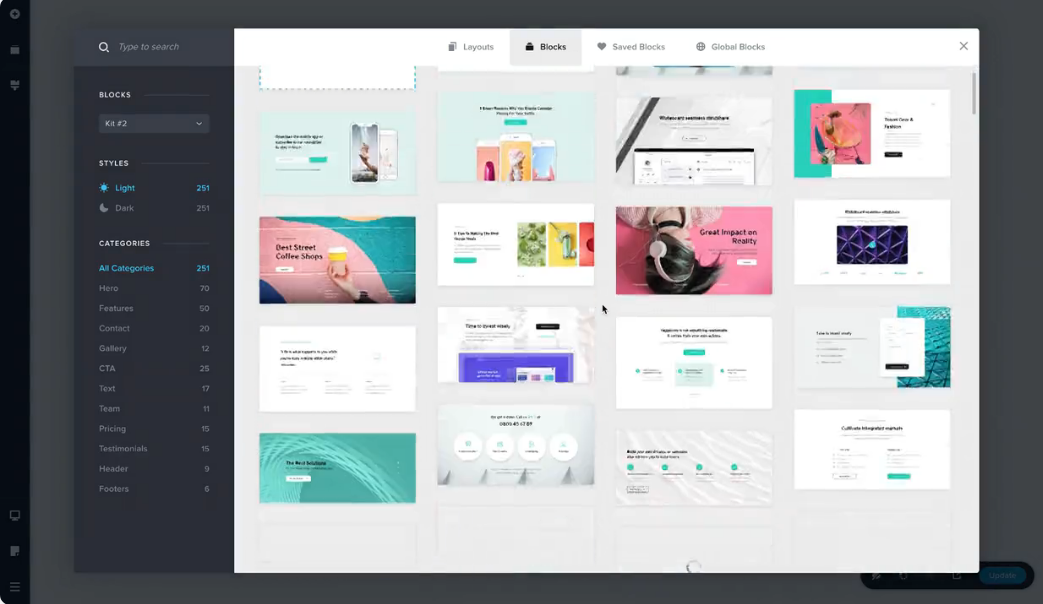 The icon library has over 4000 icons in it which are way more than you'll need. Elements like landing page slider, parallax, overlay, and others all come as part of the native builder and not as additional downloadable elements as in Elementor.
Think of Brizy as the great aggregator of page builders offering the best of all worlds. I can write a 10 000 word blog post if we are to go through them all. What I want to talk about is the big feature which sets them apart from all the other players by light-years ?.
To sign up to Brizy, simply follow the link below: