I have been asked a lot of times about this company and there has been a buzz, so I went on to invest
igate & decided to do this Four Corners Alliance Group Review. This is why you need to read all the way to the last word. I will try to answer most of the questions i have been asked and  you will have to see if its for you or not ?
PRODUCT_NAME : 4 Corners Alliance Group
Overall Ranking: 2/10
Price: $18.00 one time payment
Products: Financial Literacy Products
Website: www.fourcornersalliancegroup.com

INTRODUCTION
---
Four corners alliance group is a business with multiple income streams and unlimited earning potential, with an incredible support system.A lot of people are probably skeptical.The 4Corners Alliance Group is all about giving people the financial tools, training and guidance to secure a solid future for themselves and their families. 4Corners is experiencing exponential growth in a very short period of time.You may probably seen pitches left and right about the 4Corners Alliance Group
TOOLS OVERVIEW
---
Access to various digital products.An optional 4 corner alliance newsletter, which you must pay in order to subscribe for.Lastly, you can purchase from an assortment of 4 Corners Alliance products, that are essentially sold to you as a means for you to sell to others and make a profit. CLICK HERE to view the products
What I hate about Four Corners Alliance Group
---
Here I am going to be a little harsh. In most Matrix systems they make it seem so easy to do,Like say get only four people, when the truth is, most people will join and do nothing I normally work on 10% conversion rate which means 10% of people that will join under me will produce results. So in this case when they say get only four people, my take is you need to have 40 people to have 4 serious people , guess what will happen with the other 36 people when you follow up they will give you excuses (I don't have time, I have been busy, and so on).
Four Corners Alliance Group Scam- Is it Real?
---
My take is it's NOT a scam and for the people who are good at online marketing probably makes a lot of money.  If you still have little knowledge about online marketing it is important to jump early in these kind of matrix's you increase better chances of making money because the person at the top makes money so timing is very important. If you have to join, join now or never.
Four Corners Alliance Group – Presentation
---
Below is an overview of the presentation
Four Corners Alliance Group Comp Plan
---
4×6 matrix with real products on different  topics, about finances and etc.
Here is the matrix chart looks :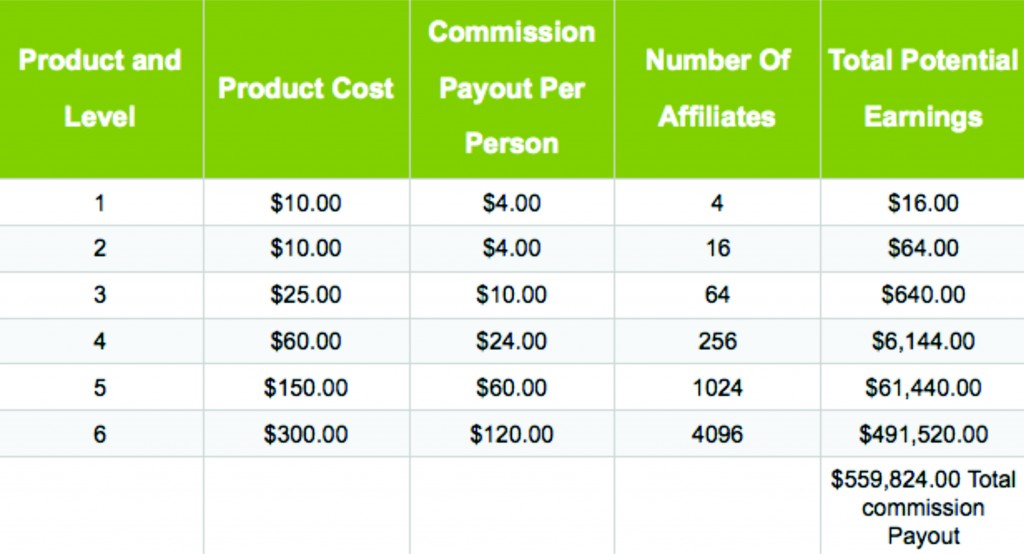 Why I joined Four Corners Alliance Group
---
Ever since I joined network marketing industry back in 2012, I have read over 150 books on different topics (wealthy creation | online marketing | personal development |etc). My #1 reason is I love reading so I loved Four corners alliance group products.To this day I read at least books in a month. Remember leaders are readers and readers are leaders. #2 its their digital products e-books, the world is going digital and I love promoting digital product because of the instant downloads and etc. #3 its the global reach, I have become good at facebook marketing in my years experience and facebook to me is a goldmine lol. I love the quote from a book i am currently reading by Tony Robins Money Master the Game "If you want to look for the bad you will find it"
My Recommendation
---
How you will earn money ONLINE? There are many ways to make money online… 1000's of different ways in fact! The problem is that people often get distracted by the "latest and greatest" product or service and they are never able to build a successful (and revenue generating) business.
Just one thing before you get into the MONEY "stuff"… The making money part of your business won't happen quite yet. Before you earn money, you have to first be focusing on creating your niche website and work to get traffic to your website. Without a website, without content, and without traffic, the MONEY doesn't happen. …..you must first have a solid foundation to build it on If you want to learn hoe to build a successful online business check out my #1 recommendation CLICK HERE.
Conclusion
---
My hope is that my Four Corners Alliance Group review will help you make the right decision. If you are looking to be part of Four Corners Alliance Group and would want  me to help you and work with me you can CLICK HERE to sign up  for 4 corners alliance group.Or get back to the person who got u here and ask for their sign up link.
If you have any questions or if you are member of Four corners alliance group please leave a comment below
To your success
Kuda