My Paying Ads Review 


Overall Rating: 50/100
Price:  $5 minimum
Owner: Uday Nara
Business Type: Revenue Sharing
Website: www.mypayingads.com
INTRODUCTION
There is a lot of new businesses on the internet now and then, before I call anything a scam I closely look at the business model. That is why you need to read this post to the end so that you know if  My Paying Ads is for you  or not. I have also done a free E_BOOK on the steps you need to take to get started with MPA, you can download after reading this article
My Paying Ads was launched on 30th of March 2015, Created and operated by an online trusted individual Uday Mara.
What is My Paying Ads: It is revenue sharing program meaning that you put some money in, and let it build interest from everyone else that puts money in. Its primary objective is to bring high quality targeted traffic to advertisers in a short space of time giving its members a chance to earn a decent income with what is known as Ad Packs. Returns on Ad Packs is 120%-150% of which $1.00 give 20 business credits/listings on the My Paying Ads business directory.
Now lets get into more details
WHO IS IT FOR ?
This program is mainly designed for internet marketers and online advertisers, though a newbie can earn money through this program because there is nothing much involved the least you can do is to surf ads and get paid. In my opinion anyone can do this.
My Paying Ads Scam?
My paying ads is NOT a scam, There is exchange of services for the money that you pay. I have received all my commissions in time.
What is involved in My Paying ads?
In order to earn money you need to do something so here is a bit of a catch. 

You must surf 10 ads within the My Paying Ads business directory, about the same time, or every 24hrs this will qualify you to the revenue share. thats it'
There is an optional referral program where you earn 10% commissions from the Ad Packs purchases from your referrals. (This is totally optional). Lots of people have a hard time with recruiting and sponsoring so this makes it easy for those who hate selling and recruiting because the revenue share can bring a decent income.
Making money with My Paying Ads?
The answer is YES one can make money with My Paying Ads. I started by funding my paying ads account with $20.00 had to observe the share earning and they were about 4.5-5% per day ($1.04). I added more funds to $200.00 share earnings per day went up to  $10.37 per day. The more I funded my account the more I earned, I added more funds from my commissions and share earning to make it $500.00 thats  share earning of $25.92 per day . Looking forward for some increase
An investment of $1 will give you $0.20 (nothing more nothing less) in return over a period of time. Revenue share is 120%-150% depending on the level you are at. Take a look at the image below
A member must have a minimum of 100 shares in order to move on to the next level.This is a good model because it avoids the get rich quick mentality.
Additional Members Benefits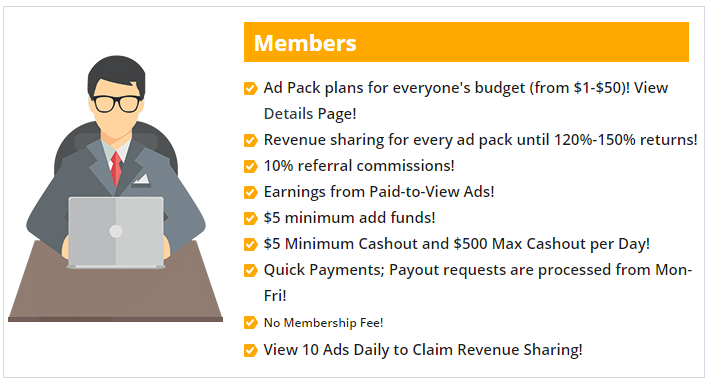 THE GOOD:  According to Anthony Robins If you want to find the bad you will find it. Here are some points that pints out the good 1.You can make money spending little time 2.Uses paypal and other trusted online payments 3.The trusted owner 4. Pays better than the bank 5. Support from the owner Uday via facebook group
THE BAD: 1. Very risky In the sense the revenue sharing means you share profit or loss some days the earning are high and some days they are low  2. You can not do this full time 3. There are no refunds and income guarantees
CONCLUSION
I hardly recommend any revenue sharing programs but because of the trust i have in Uday Nara I have given it a shot . This one is great . My overall rating is 50/100.
CLICK HERE TO GET STARTED Sponsor is KudaOnline
Leave a comment below
As I promised earlier CLICK HERE to download the E_BOOK on how to get started and more details about My paying ads
---
When I look at any Internet opportunity I look at the education I get out of it. Looking at this program it is less educative. If you are looking to make some side money its great to be part of it but if you are looking to build a rock solid internet business
Click here to read an article about my number one recommendation with regards to to online money and internet business.
If you would like to leave your personal review or experience of Revenue Shares or you have any questions, please do leave them below. I would love to hear your feedback!
To your success
Kuda