Website: www.growbigcorporation.com
Owner: Wandi Goliath
Product: Book
COST: R395 South African Rand or $32.00 USD
I have read a number of book sand I still do to this day. A few years back I got hold of a little book that changed the way I look at the internet. The book was a ten paged e-book that totally transformed my thinking and my attitude towards business. from that time I have created a culture of reading. I am not surprised that there are a number of people as who hate reading as I used to. What I am today is a result of reading a number of books. Let's get this out of the way I am sure you want to know about the book by Wandi Goliath, turn your monthly expenses into monthly income. I read this book in less than a day, not that its a small book but over the years I have become a  fast reader.
What is Turn your monthly expenses into monthly income all about?
The book is about how to generate income from the things that you are already doing. Wand shares a number of strategies in order to stay in the game when it comes to business. He highly speaks of referral marketing as a tool to help any kind of business grows. After reading the book I was inspired to launch an online training school which I have implemented some of the strategies that Wandi Goliath shares. www.creativetwentyone.com  
Met My Friends Mel & Thandi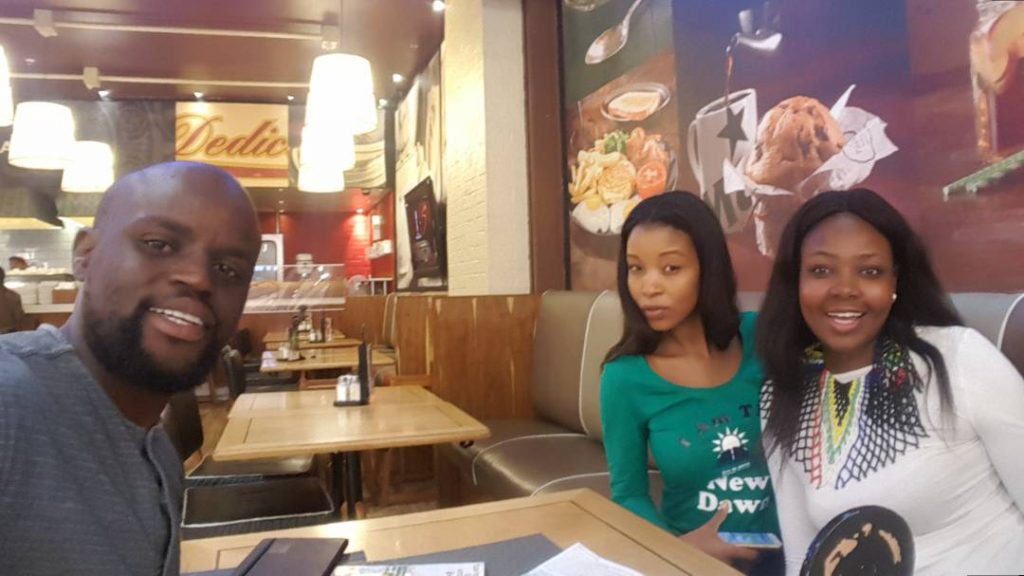 I have met Mel and Thandi some few years back on Facebook. We have been involved in a number of businesses over the past years. When they got the book they recommended the book as well. I met my good friends once at one point I visited South Africa. I must admit its great to be around people who push you to be your best.
Who should buy the book
A friend of mine I asked why would I buy the book. When it comes to books I take it personal. I have met a number of people who don't value reading at all. I would rather spend time reading a book than watching TV. If you are an ambitious person who needs to learn about creating another income source then it's for you. If you are an entrepreneur who aspires or runs a small business then you got to get a copy. Allow me to say the book is for anyone who needs to grow their business. If you are involved in network marketing and struggle to build your team you definitely need this book.
Meeting with Goliath wife

Makhosi Goliath
The image above is me a Makhosi in Johannesburg.While I was in Johannesburg I had a chance to meet Wandi;s wife. She shared a story that inspired me indeed. She spoke why they started the book distribution through network marketing.
What is the difference between Grow Big Corporation and turn your monthly expenses into income.
The grow big the company/system that handles the distribution of the book.
What does grow big Corporation offer ?
Grow big offers a book as the products and rewards for promoting the book. One can earn milloins if you get to the highest level
watch The grow big corporation video presentation below to understand the pay plan
How does one get paid from Grow Big Corporation
For people in South Africa you get paid through bank account. Internationals like me get paid in bitoin. 
Is grow big corporation a scam ?
With the market saturated with many scams and a lot of people have lost money from many programs. Lets face it. you can buy a book from a book and you get the book. In this case you are purchasing a book ( this means value for money) you pay and you get the book. In my opinion, this is not a scam you buying the book and you get rewarded for recommending the book. Its that simple.
Your bonus for becoming part of my team on grow big corporation
Having been on the internet for a while I have walked the path. If you-you purchase the book through my link. I will give you the following as a bonus
1. Bitcoin for beginners training- I have a bitcoin course that I sell online for $77.00 dollars. If you buy the book for $32.00 the training is your 100% free.
2. I will give you access to my training portal where you learn about team building and how to grow your business online
3. I will add you to our support group chart so that you stay in touch with the latest news …
Conclusion
I may have missed out something from my article. If you have any questions please comment below I will be more than happy to answer.