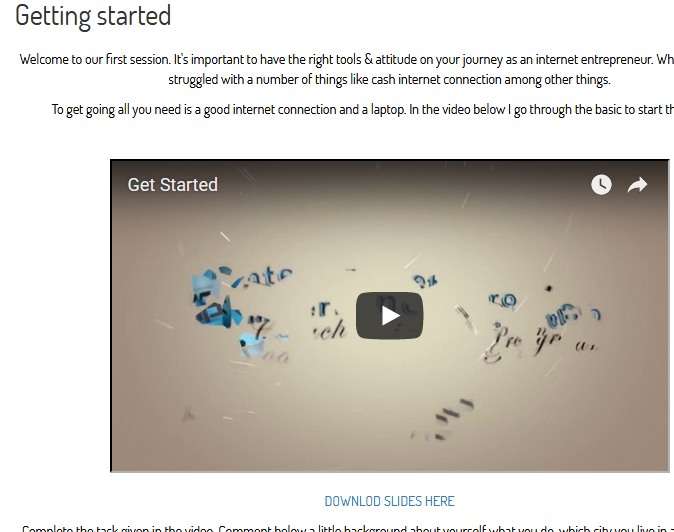 The internet Pro Club is  is taking the online marketing space by storm. Students are getting real value from the this programme and a number of graduates are already producing results!
What is the Internet Pro Club?
It is a coaching programme where students are taught online marketing (making money online). Internet Pro Club demystifies myths around making money online and simplifies online marketing so that it becomes easily understandable.
Internet Pro Club is designed to help you build a real internet business that becomes an asset for you and not just another job!
Why was the Internet Pro Club created?
I created the Internet Pro Club because of the challenges I faced when I was starting out as an online entrepreneur. I had a difficult time setting up my business as getting valuable and actionable information was a great challenge.
There was also a frustrating time when I ended up joining some bogus schemes and I was scammed. I remember a time when I actually wanted to quit this online work because I thought it would never work!
After setting up successful online businesses I sought to help people just starting out on their journey of making money online so that they would not go round in circles like I did. I wanted to keep it simple and straightforward.
The Internet pro club also wanted to be different from some other online marketing courses out there which are very expensive and do not come with any form of support after you buy them. I wanted to create a community of people learning and helping each other set up their online businesses in real-time.
A lot of time was then invested in setting up the coaching programme to ensure it met the objectives set out at the beginning.

How is the Internet Pro Club Coaching Programme set up? (Key features)
The programme is set up to cater for the complete beginner who does not know anything about making money online.
The introduction
The introductory lessons are meant to help you get into the right mindset. This is because the mindset plays a very important role when it comes to making money online.
All the lessons are in video format and pdf format. This has been done to cater for the different learning preferences of people. The videos are very well detailed and easy to follow.
There are also tasks that come with every lesson so that you get to put what you learn into practice. There are also discussions below every video where all the students can discuss what they would learnt from the video.
This will help you learn from what the earlier students experienced.
A good feature is that you cannot progress to the next lesson without completing the previous one. This is because the course is set up in such a way that the lessons gel into each other. The lessons start form the simple to the complex so they need to be followed in that order for you to get the most out of them.
Some of the topics in the introduction include:
-GETTING THINGS DONE TO SAVE TIME & MONEY
-FINANCIAL GOALS
– 50 plus things you can do with money
-50 plus things you can do to make money
– UNDERSTANDING HOW MAKING MONEY ONLINE WORKS
-4 STEP PROCESS TO CREATING AN ONLINE BUSINESS
These topics are value packed and will set you on your online marketing journey.
b) Online Presence
The second part teaches you about your online presence and why it is important. You will learn why you need a website and how you can set up your own.
By the end of this section you will have your own website that you can manage and customise through following simple steps. There are a number of students who have already set up their websites after going through this training.
c) Product Creation
The third section will teach you about creating your own digital products that you will sell online. These digital products include ebooks, slides, videos and audio files.
There is a separate lesson for each of these and you will have the practical task after each lesson.
d) Online Jobs
This section will look at how you can use your existing skills to do online jobs. To inspire you I have put in an interview I had with one of IPC students who is now generating a significant monthly income on upwork.com.
e) Fiverr BluePrint
This section is in part an extension of the previous one on doing online jobs. Here you will have 10 lessons looking at how you can grow your profile on fiverr and earn a stable income.
Some of the lessons include:
-How to create a gig
-How to create & Configure Your Fiverr Account
-How to create Gig Extras
-How to Generate Traffic To Your Profile
-How to Get 5 Star Ratings
-How to Identify Hot Selling Gigs
-How to optimize your profile
-How to track your monthly Trends and sales
By the end of this section you will have all the knowledge necessary to help you grow your profile.
f) Affiliate marketing
Affiliate marketing is one of the best models of making money online and it is covered in-depth in IPC. It's true that a lot of newbies end up getting frustrated with affiliate marketing because they do not get the results they want.
In IPC you will be taught how to grow your business faster and how to avoid the common pitfalls. Some of the topics covered include:
-Introduction to Affiliate Marketing
-What is Affiliate Marketing
-How to make most of the money as affiliate marketer
-Case Study- Affiliate marketing
-Choosing the right products Affiliate Marketing
-Finding affiliate programs
Each of these topics is covered in depth with practical exercises so that you get the most out of it.
g) Sales Funnel
Sales funnels are the best ways to generate sales of your digital products and we teach you how to create an effective and high converting sales funnel. You will be introduced to sales funnels and the philosophy behind them.
As always you will also get practical exercises to do after your lessons.
Conclusion
As you have seen, IPC is packed with real value. The world of internet marketing is always changing and in IPC I am always adding new trainings to ensure students stay on top of the game. Interviews will also be added to inspire you in your own business as well.
The price for IPC also makes it very affordable and attractive. Imagine getting lifetime access to all this value for the low, low once-off investment of only $97! It is a real bargain! You can also test drive IPC through the silver plan which offers limited access.
If you are a progressive and action oriented individual you will greatly benefit from the coaching in IPC. You will learn how you can create passive income and businesses that you can sell when you no longer want to run them.
If you are serious about learning how to make money online you should enroll in this course. It will be one of the best decisions you ever make.
You can learn more about IPC by following this link www.internetproclub.com
Looking forward to seeing your progress inside the course!