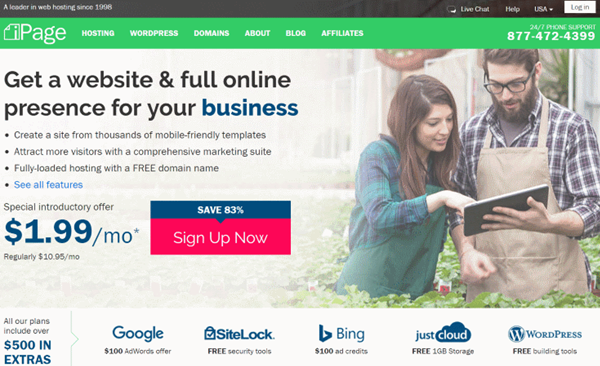 Finding a good hosting service is very important because a poor hosting service will derail all the hard work you put into making your website great.
When I started my online marketing journey I did not appreciate the importance of this exercise and I chose some hosts that gave me a raw deal. With one of the hosts, my website continually went down every day around midnight for about an hour and repeated complaints got me nowhere.
After I left that one I signed up with another one and out of the blue, their server crashed. To make it worse, I hadn't backed up my site and I lost everything. I had to start from the scratch and it was a terrible situation.
I run a number of websites. I finally found iPage and I haven't had any challenges since. Let me show you why I use and recommend iPage. But before I do that, let me explain what a hosting service is, just in case you are not sure.
What is Website Hosting?
When you make a website and want other people to see it, you will need to publish (or upload) it with a web hosting service.
Web hosting services work by storing your website files in high-powered computers (web servers) connected to a very fast network. When someone types in your web address (such as www.kudaonline.com), the Internet connects to the web server holding your website files and then transfers your website information back to their computer. From there they can surf and view the pages of your website.
Now that you understand what website hosting is, let's look at why I prefer iPage from the other hosting services out there.
iPage's Hosting Features
iPage boasts an unusually generous shared Web hosting package, as well as the rock-solid virtual private server (VPS) and dedicated server offerings for those who need a more powerful foundation for business Web hosting. Let's look at the advantages of using iPage below:
Affordable hosting
iPage's plans start at only $1.99/month making it one of the cheapest web hosts available. This is very affordable and when you consider what you get in return you will see that it is a bargain.
Free Domain
When you register for iPage's hosting plans you get a free domain that would normally cost you at least $15. With some other hosts, you have to buy the domain and then pay for the hosting.
If you have your own domain you can also seamlessly integrate it into your hosting account.
30 Day Money-Back Guarantee
iPage offers a 30-day money back guarantee and that gives you peace of mind.
If you are not satisfied for any reason, you can get your money back in full. No questions asked.
Good, Professional Customer Support
iPage provides decent support through phone, email and live chat. This is very handy should you have any questions or require technical support.
Generous Hosting Plans as compared to the Pricing
The hosting plan comes with Unlimited domains, Unlimited disk space, Unlimited email accounts and Unlimited MySQL databases. These are great features that are heavily limited by other hosts.
Reliable Uptimes
iPage has 99.99% uptime. This means that their servers are almost always online. I have been using them for about 4 years now and in that time the longest downtime was just five minutes. In the last 5 months there has been no downtime at all. This makes it a reliable host.
Uptimes are reliable because when your site is down your visitors will not see it and you lose out on potential business. As I have explained above, with iPage you do not have to worry about that.
Enhanced Security Options
All iPage Hosting plans come with a SiteLock security suite, which is like a security frontline for your site.
SiteLock helps prevent unwanted security breaches by regularly scanning for malware issues. Depending on the plan you choose, this also includes them going in and removing the malicious stuff for you.
In addition, they'll use a firewall to help prevent any potential security leaks.
Best of all, they'll also include daily backups. So IF something were to happen, you can simply roll back to a prior version quickly to get things back online.
This is a nice added bonus that many other web hosts will charge additionally for, making that super low $1.99 look even better yet.
Third Party Application Support
iPage integrates well with Google Apps, PayPal, and more. That's especially helpful for eCommerce websites who need to handle secure payment transactions.
Advertising Bonuses
iPage also gives you some bonus advertising credits on new accounts for Google AdWords, Yahoo, and Bing.
This allows you to advertise your website on these search engines. All this for $1.99!
Free Website Builder
When you sign up you get instant access to iPage's state of the art drag and drop website editor. This editor allows you to easily create your own website even without coding skills. You can also choose from thousands
of professional looking templates.
Added to this, you get access to WordPress website development tools which are very useful in making your website.
Conclusion
The features highlighted above make iPage the ideal hosting partner for me. I run all of my websites on iPage and I am very satisfied with the service.
The affordability makes this an unbeatable offer as well. Visit iPage.com to learn more for yourself.