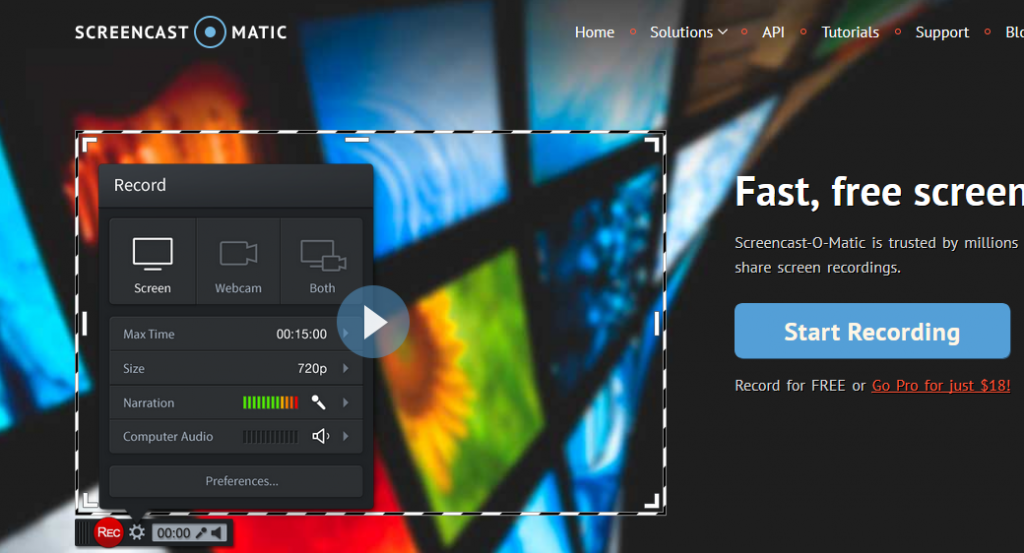 There are many tools that I use as an internet marketer and Screencast-o-matic is one of the most useful and indispensable ones. So what is Screencast-o-matic?
Screencast-o-matic is a screen recording software that allows you to create narrated videos. I have a YouTube channel where I regularly post videos explaining different internet marketing tips to my followers and I make all my videos using  Screencast-o-matic. This is the very tool that I use to create video for memebrship webstites like http://internetproclub.com internetproclub.com I have used a number of Computer Screen Recording softwares and out of all these I prefer Screencast-o-matic.  Let me show you why I use and highly recommend it.
I like ScreenCast-O-Matic mainly because it is very simple and safe to use. You can begin recording in just a few clicks. Below is a screenshot of the interface when you open the programme.
Record your webcam & your computer screen
You have an option to record the computer screen or the webcam or a combination of both the screen and webcam. I like to record both the screen and webcam so that my fans can also see me as I narrate during the course of the video. This adds a measure of trust and connection.
With the Pro-Recorder license, you can record an unlimited time and in HD. This results in high quality and high-resolution videos which are naturally more captivating to the viewer.
You can also adjust the recorded area by dragging the black and white border box. This is a useful feature as it allows you to have control over what your viewers will see. You can also choose to record the active window or the fullscreen in HD.
Record the microphone and computer sounds
The software also allows you to record both the microphone and computer sound simultaneously. This comes in handy when you want your viewers to hear certain sounds that the computer makes for example when you complete a task successfully.
When you are recording the software allows you to capture all the movement on your screen, a yellow circle surrounds your cursor so it can be followed.  The circle on the cursor or mouse point "glows" when you click the mouse and this makes it easy for your audience to follow.
Preview and edit your video after recording
After recording, you can preview the video and edit it using the tools in the software Powerful editing features include eg. pan zoom, frame by frame preview, etc. You can also add music to help set the tone for your audience. You can even insert subtitles after recording.
Upload to multiple sites simultaneously
Another great feature is its ability (premium version) to upload to multiple video sites like Youtube, Google Drive, Vimeo Pro and Dropbox. You are also able to make another video while it is processing/uploading previously videos that you would have just made.
Save the video online or on your computer
You can also choose to save the video file on your computer as either MP4 or FLV. You can even upload your videos to  Screencast-o-matic servers and have it hosted there. This is useful if you do not want to publish the video and you want a backup of the video in case your computer crashes.
Does not slow down your computer
Though Screencast-o-matic is loaded with such great features, it does not operate slowly. It does not bog down the pc and it is ok to run with other programs running.
Educators, businesses, gamers, network marketers, online marketers and anyone needing an affordable, fast recording app to create a video file and share online.
For example, a network marketer can make a video showing how to sign up to a program. A teacher can make a video explaining a concept to her pupils.
The software can be used by anyone to create visual presentations, and communicate while they demonstrate!
It allows you audience to follow through easily. Videos are more effective and engaging for some viewers since they like seeing a Live Walkthrough so they know exactly what to expect as they follow along.
The software is very easy to use even for a beginner. It's easy to go through the interface and find the functions you want
One click upload to YouTube.
It is also a freemium software. This means that it has a free and paid version. The free version has limited functions. The full version costs only $15/year and that is way cheaper than other alternatives on the market. I have negotiated a 20% discount for my readers and if you want to get it you can get it by clicking here. With the free version you can record only up to 15 minutes and you cannot edit the videos.