This was kept a secret until now.Imagine getting paid every month to your trading account or into Nettler account.With the rise of FOREX trading interests around the world and especially in Zimbabwe. There is no doubt that a number of people are making money and of course some losing money. There is a resource around FOREX and Binary trading which is untapped and yes as you may have guessed it Binary AFFILIATE. So continue reading I will show you screen shots of some of the payments that came my way.
WHAT IS BINARY AFFILIATE?
Affiliate is becoming a partner in a company and in this case, it's binary.com . As an affiliate, you get paid commissions when you refer clients to use their platform. Let's face it look around you, people are already doing forex and binary trading. All you need to do is to find clients who have those interests and refer them to binary.com.
Promoting BInary.com
Think of Facebook along, groups pages, individuals discussing forex trading all you need to do is to join the discussions and recommend Binary.com as the best trading platform and get paid. We have not covered youtube, blogging, email marketing and other marketing strategies that are available.
WHAT IS THE COST TO BECOME AN AFFILIATE WITH BINARY.COM
This is the best part I love about this company, getting started as an affiliate is ZERO, no monthly fees, no hidden costs, I mean ZERO. It's a matter of signing up as an affiliate. You can visit the affiliate page CLICK HERE  and get started today.
Payment PROOF FROM BINARY.COM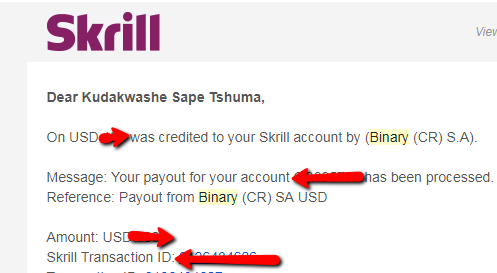 I always love to write about my experiences. I receive my commissions on the fifteenth of every month. Though at times use my commissions to trade binaries.Binary.com commissions goes up to 35%. In the next paragraph, I will discuss the amazing support. I am not sure maybe I get preferred support. Binary.com Deposits vary with what you prefer they have hundreds of options available.
BINARY.COM AFFILIATE SUPPORT
Though the company offers a number of ways to contact them. I think they have dedicated support to its affiliates. I normally contact them via email. The best support I love is the skype support, calls and charts as well. binary.com recently introduced a telegram group for affiliates. I see a number of discussions even trading tips as well.
CONCLUSION

Steps to becoming a super affiliate are simple. 1 market research on what people want ( BINARY/Forex Trading) 2.  Find the product to promote (BInary.com Zero Cost) 3. Set up your affiliate account (FREE) 4. Promote your affiliate link (DIGITAL FINGERPRINT) to the targeted marketed ( FAcebook, events, blogging, youtube and so on. 5. Repeat step 4. GET PAID.
If you have any questions and if you need help getting started as an affiliate for binary.com leave a comment below