In this article. I'm gonna share a little bit about the deriv cashier. If you don't have any idea what the tab is all about, you may need to learn what Deriv is all about. Deriv is an online forex broker that people can trade commodities, stocks, among other things. It is commonly used with a lot of online forex traders as their preferred online forex broker. In order for anyone to participate in the forex market, they will need a broker and one of the popular ones that is used is called Deriv. So let's jump into the section of the deriv cashier where you will learn the deposit methods and the withdrawal methods available on the Deriv platform.

When you head over into your Deriv account. If you click on where it says cashier, you're going to see a lot of options. The first option that you see is a deposit. The second option you see is withdrawal. The other option that you will see is a payment agent, another one is called Transfer. If you are a deriv agent like me, you're going to see a tab that says Transfer to the client. The last one that you're going to see is called Dp2p. So we're going to look at each one of these and learn about their purposes and learn about how they work.
If you prefer to watch the video version
Let us jump into the deriv portal on the deriv deposit portal, you're going to see a number of options that you can use to deposit your funds into deriv. The first one that you see is called Deriv Deposit via Bankwire or credit Card or E Wallet. When you open this tab, it's going to give you a number of options that you can see based on your account status.
Create an account on deriv click here 
Deposit Tab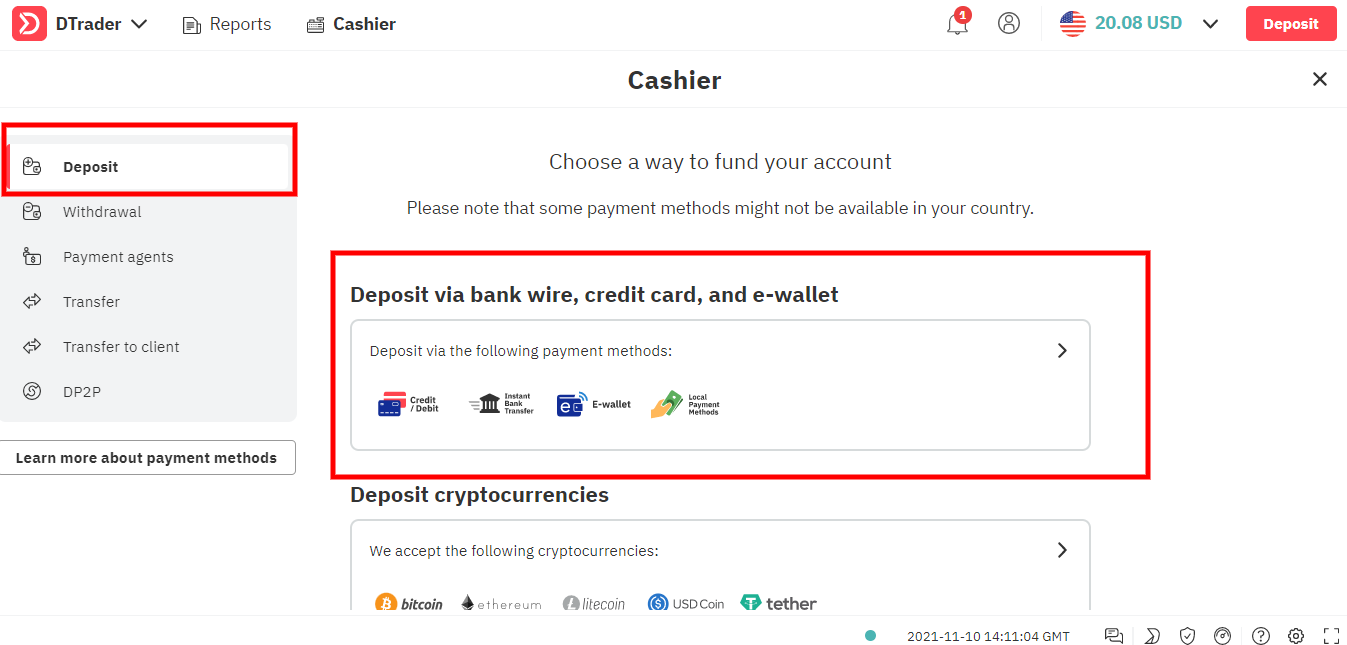 Some of the payment methods may not appear in your deposit section. It's because deriv has a policy that states that the same way that you have used to deposit money is the same way that you can use to withdraw money. In some cases, some may be able to see a Mastercard option. Some may be able to see a Visa card option. Some are not able to see all those other options. So if you see any deposit method that is missing in your account, you can contact the deriv support team. They will give you assistance in adding that specific type of method that you can use in your country.
Withdrawal Tab
The second tab that is under cashier is called the withdrawal tab. The withdrawal tab is used when you need to withdraw funds from your forex broker. when you have made some profits. To start the withdrawal process, you have to click the button on your withdrawal tab to confirm that yes, you want to make the withdrawal. However, there are different options for how you can withdraw your money. And again, as I said earlier, this varies with the method that you've used to deposit and deriv may limit you to use just specific options to withdraw your funds. If you have any issues, the best is to contact Deriv support.
Payment Agents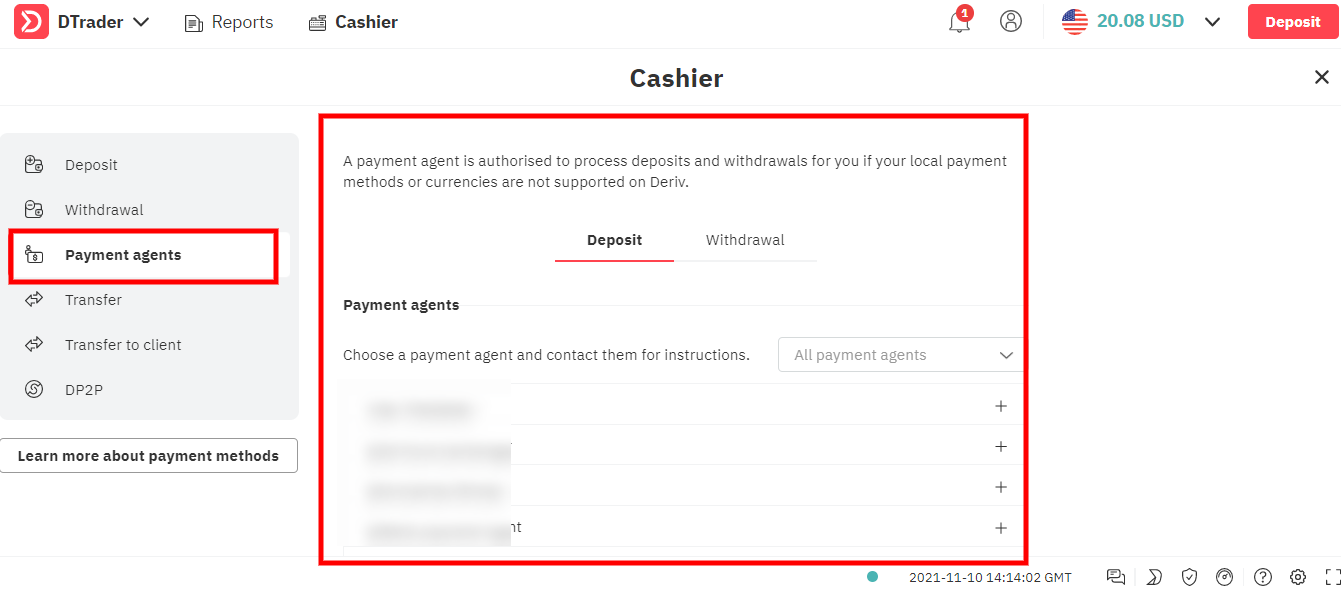 The other tab is called the payment agent. On the payment agent, what you're going to see is the deposit option or the withdrawal option. There are people that have been trusted to collect funds on behalf of Deriv and they can use that money to credit back into your account when you give them money. These people are called Deriv agents. In order for you to become a Deriv agent, you have to apply with the deriv support. They are going to give you a list of requirements and from those list of requirements, you have to submit your documents. Once you do that when you are approved, you are going to appear under the list of agents. In any country, they are deriv agents that can help you to deposit the money and withdraw the money. A very good example is when John wants to deposit money into Deriv instead of using any other method, they can find a payment agent whom they can give cash in hand or they can give them a local bank transfer. In our countries in Zimbabwe, we use Ecocash and Zipit. As a trader, you can find a direct agent who can help you with that.
The video below explains this concept in depth.
Transfer tab
There is a tab that is called transfer. Now the transfer. Think of it this way when you need to move your money from account A to account B within the Deriv platform, some of the people they are trading rise and fall, some of the people they are trading binaries on Deriv, some of the people they are trading synthetic indices and other things. If you need to move your money from Bitcoin to USD from synthetic to USD, this is the place where you do that.
Transfer to the client (This is for deriv agents only)
The other tab is called transfer to a client. If you are a payment agent like me, you're going to see this tab in your account. This allows you when you receive money from a user on Deriv, you ask for their client ID and on the field where it asks you for the client ID. It's where you paste where the money is going to (Account holder) and then the amount and then a small description of the money that you need to send and then you can just hit transfer so the money will be subtracted from your balance to the recipient account.
Dp2p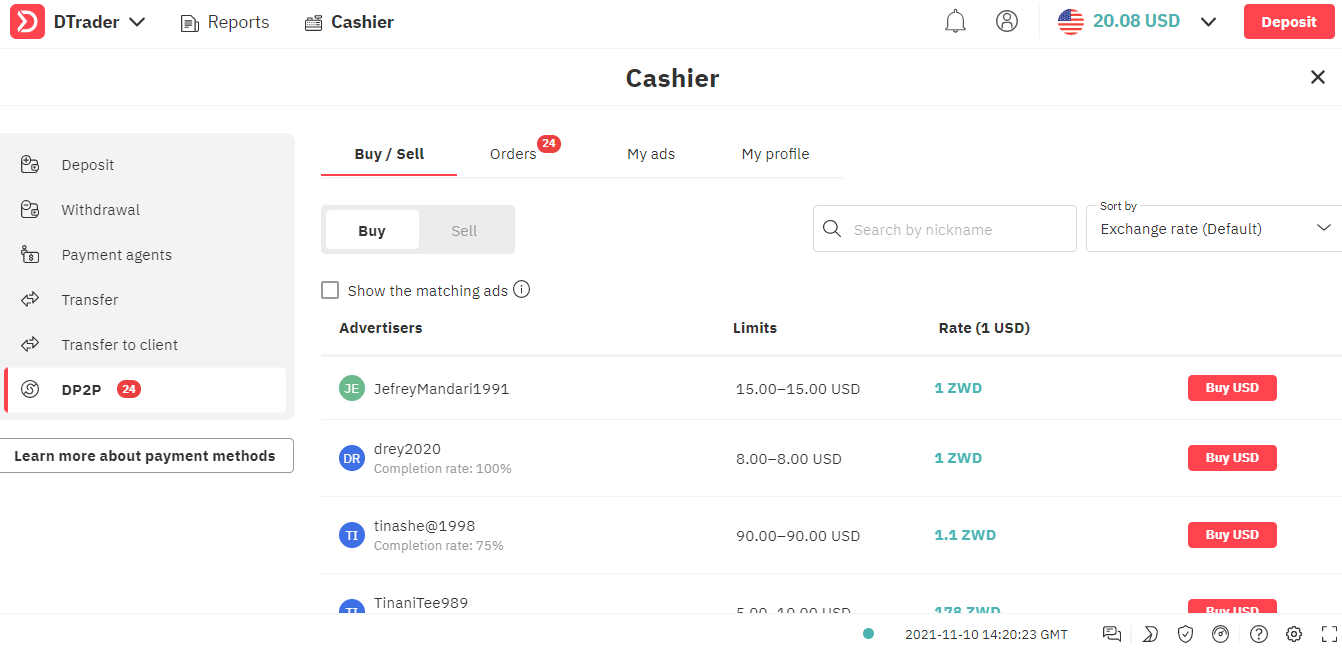 The last option that is there is called Deriv Peer to peer. The shortcut is Dp2p. What this does is a place where traders within the deriv platform can meet to exchange balances. A very good example is when a trader makes profits and they want to withdraw money instead of using an agent or instead of using a bank wire or a bank card, they can find another peer that is ready to make a deposit and then they can do the exchange within the deriv platform. So as the term explains itself, P to P, simply means person to person money is moving from one person to another within the platform. Dp2p is more like a marketplace where you meet the buyers and the sellers.
Create an account on deriv click here 
Conclusion
That's all in this article. Could you please share the different methods that people can use to withdraw money or deposit money from deriv. I understand that there are so many different techniques and methods that are used in different countries. If you have anything to share with me, please go ahead and share your thoughts, your questions in the comment section below