Over the past years, there has been a lot of people who want to make money online. If you happen to be one of them I am sure you have come across online forex trading. Many entrepreneurs in Zimbabwe, South Africa, Botswana, Namibia are trying hard to make ends meet. Yes, I have no doubt online forex trading has huge profits as well as huge losses. What if there is a way to make money from the forex markets without pacing any trades?  This is what I will explain in this article I have been doing this for years.
How do you make money without trading forex?
There are many reasons why people choose to go for online frex trading unemployment, wanting to work online, want to profit using the internet, and so on. I got started with online forex trading somewhere around 2016. I have my bad days and my good days (forex traders understand this hahaha). Besides trading, one can make money by signing up to become an affiliate for the broker. When you become an affiliate this means every person you refer to use the deriv website you get a commission. Don't have to leave money on the table, If you have friends that want to try forex trading you can refer them via your link. I will share later on how you can maximize your profits by learning affiliate marketing.
Why choose deriv as your preferred broker
If you are an aspiring forex trader living in Zimbabwe, South Africa, Botswana, Namibia then choose Deriv as your preferred broker. Yes, I know there are many brokers out there that you can use. I have been using deriv former binary dot com since 2015. Over the years I have seen great improvement in their products. Here is a great example They introduced a number of payment options that make it easy for the people in Zimbabwe to use. Airtm is one payment method deriv introduced and I love to use airtm from the time that skrill stopped taking new registrations from Zimbabwe. As one fo the top affiliates for Deriv in Zimbabwe I have the deriv marketing team has always been in contact with me discussing user experience and what is actually on the ground.  I am sure they do the same with other affiliates as well.
How does one become an affiliate for deriv
You can apply to become an affiliate in their affiliate sign up page which you can find here. From there you can also read about how the affiliate program works.
What do you get when you become an affiliate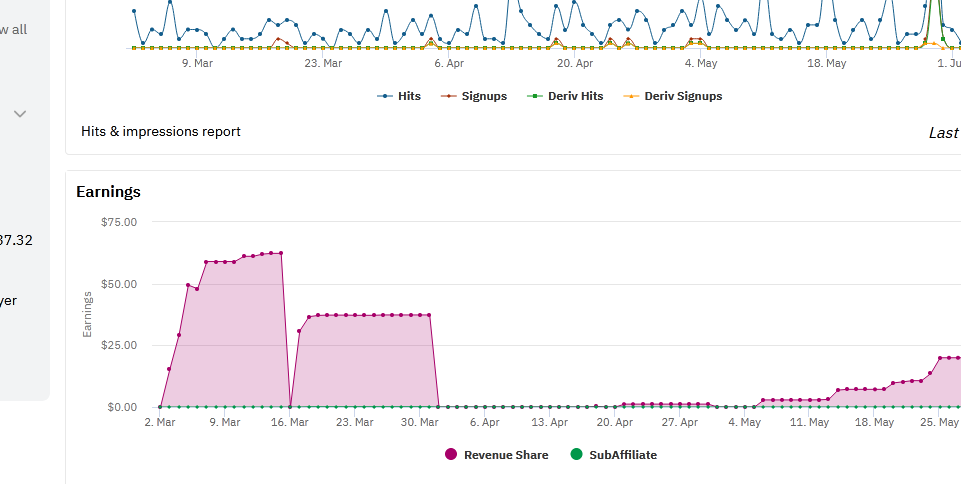 Once approved you will get an affiliate dashboard from the there you can monitor clicks, your commissions, links, support, and other things.
How much can I make from being a deriv affiliate program
Please note the results below are mine, not yours. You can do more than this if you put work to it.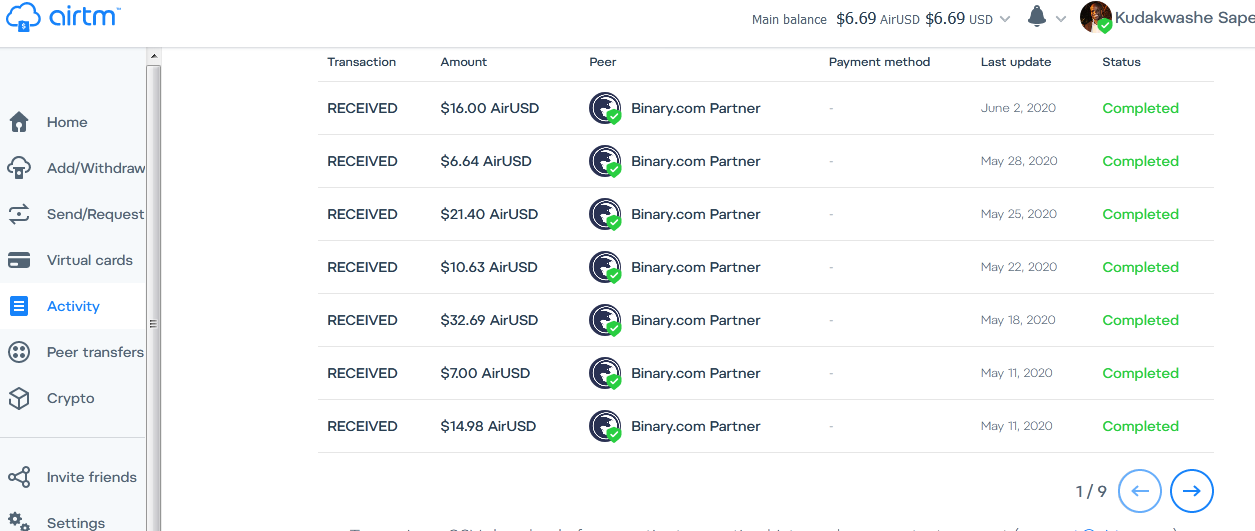 How much you can make varies on your marketing efforts, and it also depends on how your referrals are performing as well. At some point, I woke up to see that my account had over $700.00 USD in commissions overnight. Having promoted this broker for a number of years now on average I get +-$5.00 per day. Sometimes it's way higher than that. Imagine waking up in the morning and you have already made money. After all, you do the work once and commissions come over and over. I live in Zimbabwe lets do some maths a little bit. getting $5 x 30 =$150.00 per month without doing anything, passive income. I am sure that most people go to work in Zimbabwe (9 to 5) and earn less than $150.00 per month. Please note results may differ I don't promise you to earn as much as I earn and I don't want to make it look simple. I have been doing this for years. You could make nothing or even more, your marketing strategies matters.
How best can I get more signups
Personally I have trained as an affiliate marketer with an online university called wealthy affiliate. They teach a lot about how one can make money as a super affiliate. You can read the wealthy affiliate article review I wrote here. But this is for people that want to become super affiliates as a career as wealthy affiliate is a paid platform. Other than that I see many fore trading WhatsApp and Facebook groups. Some traders are even offering forex education, forex signals, and so on.
How do I get paid as an deriv affiliate
You have a choice to get the money deposited to your trading account or use Neteller. However, I prefer getting paid through airtm.  I get money in my trading account and withdraw via airtm. I did a video that explains how airtm works see it here  
Is it worth it to become an affiliate for deriv
A lot of traders don't even think of making money this way. Most traders focus on trading (making profits or losses). If you build an income without lifting up a finger is it not worth it? So next time someone asks you which broker works and you don't give then your deriv link, just know that you are living money on the table.
Conclusion
My name is kuda and Ii am passionate about making money online and sharing my ideas with a large number of people. If I missed anything in my article I would like to hear from you please leave a comment below.